By Trip Jennings 2/6/09
SANTA FE, NM
The state Senate passed the fourth and final piece of legislation to plug this year's nearly half-billion-dollar shortfall Thursday afternoon.
The measure signaled how dire the state's budget situation is. But it also showed the art of the deal.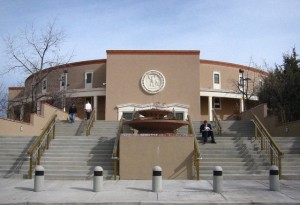 The bill freed up $94 million by scrapping brick-and-mortar projects around the state. Among those that lost all or part of their funding were domestic violence shelters, pre-K classrooms, health clinic improvements, a substance abuse facility in southern New Mexico and dozens of other plans like libraries and school gyms.
Escaping the carnage, meanwhile, was a proposed equestrian facility in Albuquerque — a project favored by Gov. Bill Richardson. An earlier version of the legislation had proposed cutting all of the facility's funding — more than $20 million. And many senators, including Democrats, had favored cutting it all. But the final bill that the Senate passed Thursday only trimmed a little more than half the money for the facility, keeping more than $10 million in for it.
Richardson has argued that the center is an economic development project because it can host rodeo events and horse shows that will bring money and jobs to the state.
But not everyone believed him. Republicans tried to cut all of the equestrian facility's funding while at the same time restoring $1.5 million for domestic violence facilities and the pre-K classrooms. But that amendment to the bill failed on a 16-26 vote.
The Senate then passed the underlying bill by a vote of 38 to 4.
That led to a harsh indictment from Sen. Rod Adair, R-Roswell, moments after the vote.
"Much of what we do in the Senate is indefensible," Adair told the chamber, referring to the Senate's decision to leave in money for the equestrian facility while cutting money for domestic violence shelters and pre-K classrooms.
It was a tense moment, of which there likely will be many more.
Lawmakers have spent the first two weeks of the 2009 session patching up this year's $454 million shortfall. But now comes the really tough part: crafting a budget for fiscal 2010, which begins July 1. And next week may bring more bad news.
That's when revenue projections for fiscal 2010 will be unveiled, and many state lawmakers in the know are expecting them to be worse than the projections released two months ago. Those past estimates projected revenues for next year to be about $293 million less than the spending in this year's budget.
Senate President Pro Tem Tim Jennings, D-Roswell, alluded to that coming storm when he said from the Senate floor, "This is going to be the first cut of many," referring to the brick-and-mortar cuts.
Jennings' sentiment is common among state lawmakers.
"We feel we are in a down spin," Rep. Henry "Kiki" Saavedra, D-Albuquerque, and chairman of the House Appropriations and Finance Committee, said Wednesday.
Speaking at the same press conference as Saavedra, House Speaker Ben Lujan, D-Santa Fe, said of next year's budget: "We are hoping that we will not need to cut health care, and education and public safety … but it will be challenging."
That's why patching up this year's budget was so important for the Legislature. It shrinks this year's budget by $454 million and builds up the state's reserves, said Rep. Luciano "Lucky" Varela, D-Santa Fe.
"We want to build up the reserves from 2009 so we can utilize some of those dollars in 2010 to make up the shortfall that we are having in terms of the revenues," Varela said.
Lawmakers accomplished the pruning of this year's budget through various measures.
In addition to passing the legislation that cut funding for brick-and-mortar projects, legislators passed a bill that transfers almost $56 million from a state reserve fund to cover personal income tax rebates approved last year. That bill also shifts money from cash balances of certain agencies and programs and moves it to the state's main budget account.
Another measure sped up the schedule for estimated corporate income tax payments, providing about $65 million to the state this year, and yet another cut more than $100 million in spending in the current budget year.
The legislation approved yesterday now goes to Gov. Bill Richardson for his signature.