PRCA
-

Director Convicted, Fined, Jailed for Violating Federal Safe Drinking Water Act
Former PRCA Board of Directors member, Michael Cervi: "In the cattle business, you don't have the bureaucratic regulations."
Weld rancher sentenced for violating safe water law
By Karen Abbott, Rocky Mountain News
September 10, 2005
A 69-year-old Weld County rancher and rodeo producer was sent to federal prison Friday for tampering with monitoring equipment to hide leaks in the underground storage of chemical-laced wastewater left over from oil well drilling.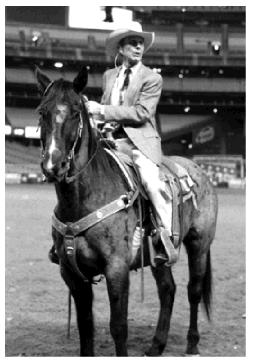 Michael Eugene Cervi, 69, of Roggen, told the judge it was all a mistake.
"The environmental business, the injection well business, is a little bit out of my expertise," Cervi said, standing in his cowboy boots before Colorado U.S. District Judge Edward Nottingham.
"In the cattle business, you don't have the bureaucratic regulations," Cervi said.
"Mr. Cervi truly is one of a kind," his attorney, Kevin Shea, told Nottingham. "He is truly indispensable to the operation of several businesses, and there aren't many people about whom you can say that."
But Nottingham stopped him.
"Oh, come on now," the judge said. "You're not telling me that his empire will collapse into dust, are you? . . . When he gets out, it'll still be there, won't it?"
"I don't think so," Shea answered. He said rodeo production these days requires much technical know-how and experience.
Nottingham decided, however, that Cervi will spend five months in federal prison, followed by five months of home detention. He also must pay a $30,000 fine and provide 50 hours of community service by speaking to ranching and rodeo groups about his crime and time in prison.
Cervi in PRCA Hall of Fame

Click here to read about yet another felon in the PRCA Hall of Fame. You really gotta scrape the bottom of the humanity barrel to find people willing to base their entire career on animal abuse so when it comes to your Hall of Fame you can't discriminate against convicted criminals. You gladly elect the scum of America when you're the PRCA.
Cervi, who pleaded guilty to a felony violation of the U.S. Safe Drinking Water Act, is the son of the late Gene Cervi, who published the now defunct Cervi's Rocky Mountain Journal.
In addition to several ranches and two companies that provide horses, bulls and other livestock for big rodeos nationwide, Michael Cervi owned a business called Envirocycle, according to court documents.
Envirocycle had a state permit to inject wastewater from oil drilling into a deep underground aquifer through a commercial injection well near LaSalle.
The well was found to be leaking contaminated fluids in March 2001, according to court documents.
Cervi's plea agreement said he had his employees hide the leak by sealing off the leaky well from the monitoring system, creating a new fake sampling point, periodically pouring clean water in the sampling tube, submitting the clean samples to the Weld County Health Department, and making false log entries about the amount of fluid in the well. By doing so, the well continued leaking contaminants into the soil.
Two of Cervi's employees, Rande Bernal and her husband, James Bernal, both 36, of Kersey, have pleaded guilty to similar charges and are scheduled to be sentenced later this month.