Rodeo
-

Performer Accused of Torching Carefree-Area Home

Update!




Looks like Aaron Jeter pled guilty to Fraudulent Schemes. I couldn't find any media, but above is what Maricopa county lists.
Arrested After Months of Living "The Cowboy Way"
By Ray Stern in Crime Blotter January 20, 2010

A rodeo performer accused of torching his Carefree-area home in 2007 to collect the insurance money has been arrested after more than a year on the lam.
Aaron Jeter, 41, conspired with two other men to burn down the custom-built home at 613 West Galvin, just north of Carefree, a Maricopa County Sheriff's deputy stated in court paperwork.
After removing several cherished items from Jeter's home, the men -- Russell Dalrymple and Justin Harju -- started the fire with the help of 40 gallons of gasoline, records state.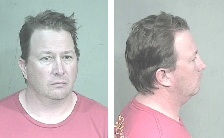 Aaron Wesley Jeter
Image: Maricopa County Sheriff's Office

The home was destroyed in just a few minutes, says Daisy Mountain Fire Department spokesman, Phil Byer.
Harju, 26, was severely burned in the fire. He managed to get out before authorities arrived, but later called the Sheriff's Office and 'fessed up. When Dalyrymple, 45, was arrested in Oklahoma a few weeks later, he told deputies that he'd committed arson as a favor to Jeter, "out of loyalty to the Jeter family."
You just don't see loyalty like that too much anymore, do you?
Investigators had already been suspicious of Jeter before Dalrymple and Harju gave their statements. Jeter apparently wanted the fire to look like a burglary. Authorities didn't buy it. He claimed to have locked $13,000 in cash in a safe, but investigators found the safe unlocked and open - not broken into - after the fire. Even his neighbors noticed that his favorite horses and dogs weren't at the property, as they usually were, when the fire broke out.
Records showed Jeter was upside-down on his mortgage, owing $600,000 in loans. And he lived far above his means.
In fact, it's difficult to see what those means were. Jeter apparently had no other job besides performing in the occasional rodeo as a steer wrestler, and he wasn't even that good. One rodeo insider contacted by New Times who knew Jeter says the guy - though a friendly, congenial sort - was "never a big winner." The Daily Courier in Prescott featured an action shot of Jeter in a May 2009 article.
Jeter was also into high-end dune-buggy action.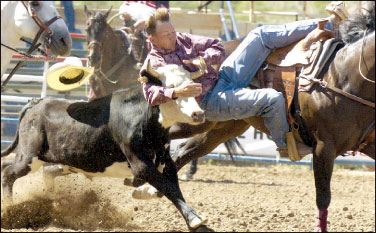 Aaron Jeter, of Desert Hills, Ariz., competes in 2007 in the steer wrestling at the Prescott Frontier Days World's Oldest Rodeo at the Prescott Rodeo Ground.
The Daily Courier/file photo

Byer recounts how he was driving by Jeter's house a few weeks before the fire and noticed expensive-looking, off-roading vehicles in the driveway.
"I was like, 'Wow, he's probably pretty hard-core,' says Byer, who enjoys tearing up the sand on his free time. He stopped to chat with Jeter about their hobby for a few minutes. Just weeks later, he was part of the first fire crew that responded to the arson. Byer says, because he had seen Jeter's vehicles up close, it looked to him like Jeter had put lesser-quality vehicles in the garage to burn while saving the good stuff.
By the time authorities figured they had enough on Jeter to arrest him, the steer-wrestler had fled town. Friends told investigators Jeter was "living the cowboy way" in Texas and Oklahoma, never staying too long in one place.
Deputies received a tip that Jeter would be in town yesterday to visit a friend, and nabbed him at a home near 11th Avenue and Cloud Road.
Harju and Dalrymple already have pleaded guilty to their involvement. Harju was sentenced to five years' probation and four months in jail. Dalrymple's sentencing is scheduled for March 15.
Jeter could end up with a much stiffer punishment if he's found guilty. In prison, his steer-wrestling skills might come in handy.