Rodney
-

Hayes

-

aka The Texas Kid - Faces Child-Sex Charges
UPDATE - Guilty!
Rodney Hayes, 44 of Linden, known in the national rodeo circuit as the "Texas Kid!" was sentenced to five years of probation for sexual misconduct with a girl that had performed in his speciality act.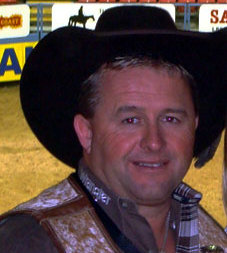 Rodney Ray Hayes
Hayes was indicted by a federal grand jury on Sep. 7, 2010. Hayes plead guilty to transportation of minors with intent to engage in illicit sexual activity in April of this year. Eastern District of Texas U.S. District Judge T. John Ward, a federal judge in Marshall, Texas, sentenced him on Thursday, August 18, 2011.
Hayes, as part of his traveling rodeo act, had children, some of which hailed from Houston County and the surrounding area, on the road with him. His specialty act provided entertainment for the Crockett Lions Club Rodeo for several years.
An investigation by the FBI revealed that at various times between March 2005 and June 2008, Hayes engaged in illicit sexual contact with at least one minor. The Texarkana Gazette reported that the incident(s) happened in a horse trailer used as sleeping quarters.
This case was prosecuted as part of Project Safe Childhood, a nationwide initiative to combat the growing epidemic of child sexual exploitation and abuse launched in May 2006 by the Department of Justice. Led by United States Attorneys' Offices and the Criminal Division's Child Exploitation and Obscenity Section (CEOS), Project Safe Childhood marshals federal, state, and local resources to better locate, apprehend, and prosecute individuals who exploit children via the Internet, as well as to identify and rescue victims.
As part of his sentencing, Hayes must register as a sex offender and is barred from having contact with anyone younger than age 18 without another adult present.
Trick rider Rodney Ray Hayes, aka "The Texas Kid," has been indicted on four felony counts of "transportation of minors with intent to engage in criminal sexual activity."
September 9, 2010 
From The Houston Press Blog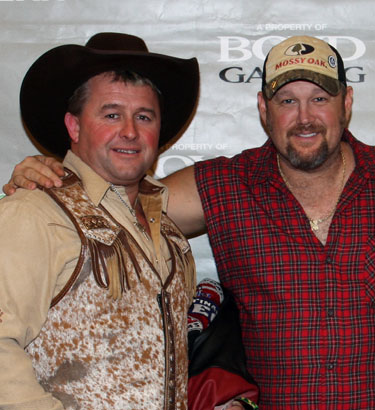 Larry the Cable Guy Hugging Child Sexual Predator
If you're a fan of professional rodeo, then this week has been a dark one: Trick rider Rodney Ray Hayes, aka "The Texas Kid," has been indicted on four felony counts of "transportation of minors with intent to engage in criminal sexual activity."
Filed in a Marshall federal court, the newly unsealed indictment accuses the Linden-based Hayes, 44, of sexually exploiting minors who toured with him between 2004-2009. The minors are identified only by initials; the indictment does not state their exact ages or whether they are male or female. Each count carries a maximum lifetime sentence.
Click here to read the Actual Indictment

Federal authorities claim that Rodney Hayes traveled from rodeo to rodeo across the country with children under the age of 18 that he was sexually molesting in addition to making them perform for the morons at rodeos. This appears to include many PRCA rodeos as he was featured at many of their rodeos. This kind of rampant sexually abuse of children doesn't go on for years and years without people hearing rumors and seeing inappropriate behavior with their own eyes. It's a real shame for these children that the type of people operating rodeos don't have the courage or integrity to do anything about young kids being raped at their rodeos.  
Citing the fact that the victims were minors, a spokeswoman for the US Attorney's Office could not provide any more information. (Two of the charges identify a minor under the initials "C.B;" it's unclear if these are two people with the same initials, or the same person who is the subject of two separate counts).
According to his website, Hayes' road show, The Pony Express, "consist[s] of 27 young men and ladies to date that have come from all walks of life to join Rodney as he entertains crowds across America....Rodney has a heart filled with love for kids and enjoys teaching them about responsibility, patriotism, and good clean American fun."
Hayes, who could not immediately be reached for comment, is being held without bond.