Horse

-

falls

-

from trailer on I-70; driver charged with DUI
July 26, 2010
Fox 31 KDVR
WHEAT RIDGE, Colo. - Wheat Ridge police say 45-year-old Apolinar Iberra was drunk when he left a rodeo at the Jefferson County Fairgrounds and forgot to properly close his horse trailer, allowing one animal to fall out on I-70.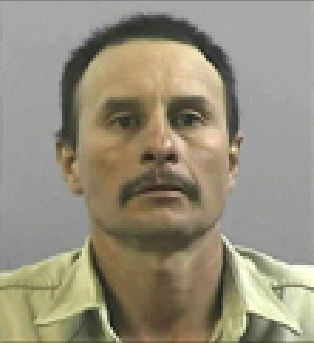 Apolinar Iberra
The incident happened late on Sunday, July 18th near I-70 and Ward Road.
Police say Iberra's blood-alcohol level was almost three times the legal limit when his drove his red pickup truck onto eastbound I-70.
The horse trailer had two blown tires, was rolling only on the rims, and witnesses say they saw the back of the horse trailer fly open, and one of the two horses inside partially fall out.
The horse "tried to run to stay in the trailer but the leg broke, and the horse tumbled into the interstate," said witness Jim Fischer.
The injuries were severe, and fatal, according to Lisa Stigall of the Wheat Ridge Police Department.
"There was significant road rash that left clumps of hair on the highway, so (the horse) was severely injured," Stigall said. "It was a compound fracture to the back leg and the horse did have to be euthanized."
Witnesses said Ibarra seemed "uninterested" in the horse, even as it was dying on I-70. And when we caught up with him Monday, his attitude didn't seem to change.
"Do you feel bad about what happened?" we asked. "No," he said, claiming he couldn't comment further.
Ibarra is now charged with DUI and aggravated animal cruelty.
There was one other horse in the trailer that didn't fall out. Because that horse showed no signs of abuse, Wheat Ridge authorities gave that horse back to Ibarra, saying they had no grounds to seize the animal.