Professional Bull Rider tried for Attempted Murder of Wife
Cowboy uses bullriding as his defense, claims brain damage
Attempted murder retrial begins 
By Clarke Morrison
CITIZEN-TIMES.COM
September 27, 2006
ASHEVILLE - A jury last year agreed that former professional bull rider Billy Ray Byrd walked into his wife's workplace wearing a cowboy hat and spurs and shot her in the head with a .22-caliber rifle, leaving bullet fragments in her brain.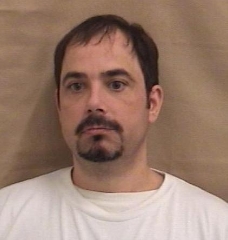 Billy Ray Byrd
He was 
convicted of assault with a deadly weapon with intent to kill
, inflicting serious injury in the May 23, 2004, shooting of Carrie Byrd at Olsten Staffing Services in Arden, where she worked as a receptionist.
A mistrial was declared on the attempted first-degree murder charge after jurors said they were deadlocked despite 23 hours of deliberations over five days in August of 2005.

Byrd goes on trial a second time this week on the attempted murder charge. Jury selection began Monday and continued Tuesday afternoon.
Byrd plotted the murder of his wife because he was angry that she was ending their marriage and had him removed from their Pisgah Forest home, prosecutors said. Carrie Byrd obtained a temporary restraining order against her husband 11 days before the shooting after alleging in court paperwork that he assaulted and verbally abused her.

Under the order, Carrie Byrd also was given temporary custody of their 3- and 4-year-old sons and use of their home.
Defense attorney Sean Devereux said Byrd couldn't form the intent - an essential element of attempted murder - to shoot his wife because 
his brain was damaged from numerous head injuries suffered during years of riding bulls.
Prosecutors said there was no evidence of brain damage. They said he brought the rifle, parked his truck at the rear of the office building so he wouldn't be seen and walked in knowing exactly what he planned to do.
Byrd also was convicted at his first trial of violating a restraining order as well as assault with a deadly weapon on one of his wife's co-workers, Gerald Cotton. Cotton testified that Byrd fired several shots at him, but missed. Byrd received 16 years in prison on the convictions.
---
Professional Bull Rider's Appeal for Attempted Murder of Wife Denied
Sentenced to 196-245 months in Prison
On 23 August 2005, the jurors having reached an impasse as to the charge of attempted murder of C. Byrd, the trial court declared a mistrial as to that charge. The jurors found defendant guilty of the Class C felony of assault with a deadly weapon with intent to kill inflicting serious injury on C. Byrd, the misdemeanor charge of knowingly violating a valid protective order, and misdemeanor assault with a deadly weapon of Cotton. Defendant was found not guilty of attempted murder of Cotton.
    After additional deliberation on the charge of felonious assault on C. Byrd, the jurors found defendant knowingly violated a valid domestic violence protective order. The jurors also found an aggravating factor that defendant inflicted permanent and debilitating injury on C. Byrd.
    At sentencing, the trial court found Prior Record Level I as to the Class C felonious assault on C. Byrd. Based on the jury finding of violation of a protective order, the offense was elevated to Class B2. The trial court found that mitigating factors were outweighed by the jury's finding of permanent and debilitating injury. The trial court imposed a sentence in the aggravated range of 196 to 245 months. Finding Prior Record Level II as to the misdemeanor assault of Cotton, the trial court imposed a consecutive sentence of seventy-five days. Defendant appeals his convictions.