Police arrest CNFR qualifiers early Sunday
June 17, 2008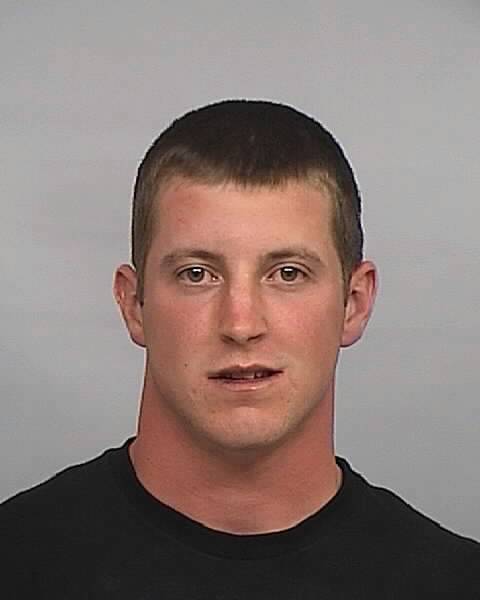 From The Casper Tribune
Two College National Finals Rodeo contestants were arrested at a Mills business at 1:40 a.m. Sunday by Mills Police Department officer Daniel Slattery after a security alarm at the business was activated.
Panola College's Tilden Hooper, 20, and Ranger College's Dean Temple Wadsworth, 20, were charged with criminal entry, minor in possession of alcohol, interference with a police officer, loaning ID to another and property damage.
All of the charges are misdemeanors.
They were taken to the Natrona County Detention Center, where they were bailed out by a bail bondsman on Sunday afternoon for $2,500 each.
Both are participating in the CNFR at the Casper Events Center this week. Hooper is the defending bareback riding champion. Wadsworth is a saddle bronc rider.
Hooper won Sunday's first round and stood second in the two-round aggregate through Monday morning's competition.
National Intercollegiate Rodeo Association Commissioner John Smith said the NIRA executive committee met Monday afternoon and took action as a result of the incident. He declined to say what decision was made because both schools are appealing. The schools will present their appeals to the executive committee this morning.
The NIRA executive committee includes Smith, the NIRA board's faculty director and student president, the chairman of the rules committee and the chairman of the budget committee.
More About Tilden Hooper

In August of 2006, Dusty Rhodes with the Illinois Times Newspaper wrote a rodeo fluff piece about Tilden Hooper at the abusive National High School Finals Rodeo. She conveniently avoided even the slightest mention of the rampant abuse that SHARK exposed at this very event. To read the entire article and SHARK's comments click here.
When two Mills police officers responded to the security alarm at Excal Inc., they found the bottom half of a glass door broken, according to an affidavit signed by Officer Jesse Jackson.
The two officers waited for additional police support before they went into the building and found one man sleeping on a couch, Jackson wrote. They handcuffed the man and found another man on a second couch in the building.
Both men "had been drinking and were extremely intoxicated," Jackson wrote, adding, they could "barely walk."
They used false identification cards to buy alcohol at The Beacon Club, Jackson wrote.
Casper Police Sgt. Mark Trimble said most of the public intoxication arrests this weekend were unrelated to the rodeo competition. But, he said, any time there is an event in town, especially involving a younger crowd, it adds more people to the bar scenes and drinking increases over the weekend.