The website of the Professional Rodeo Cowboys Association (PRCA) has an article bragging that the rodeo mafia, along with rodeo sponsor Boyd Gaming, which owns and operates casinos in Las Vegas and other parts of the country, has sufficient influence on the U.S. armed services to induce the U.S. Air Force Thunderbirds to give joy rides to rodeo thugs.
At the same time the U. S. Air Force is making desperate pleas for funding, the Thunderbirds at Nellis Air Force Base acted as if they were running an amusement park for the Rodeo Mafia.
Even more outrageous, the U.S. Air Force is allowing these rodeo spin doctors to fire the guns of military aircraft! This is your hard-earned tax dollars being wasted by the millions.
Two rodeo announcers are highlighted in the piece - Boyd Polhamus and Bob Tallman. Polhamus and Tallman have announced at some of the most cruel and infamous rodeos in the country, including the 2007 National Finals Rodeo that SHARK investigators exposed last December, and the National Western Rodeo in Denver that we exposed in January 2008. Polhamus and Tallman, like all rodeo announcers, are intimately involved in rodeo animal abuse by deflecting the attention of attendees away from animal cruelty, injuries and deaths.
It's bad enough that the U.S. Air Force Thunderbirds does an air show for the Cheyenne Frontier Days Rodeo (and has for the past 54 years and yet deny it). Additionally, pilots for the Thunderbirds make a special personal appearance in the rodeo arena at the Cheyenne Rodeo, rubbing elbows with the very people who are maiming and killing the animals.
How can it be that during a supposed "War on Terror" that is costing trillions and trillions of tax dollars, the Air Force nevertheless has the time and money to give joy rides to rodeo thugs? It is yet another rodeo scandal in a time when rodeo scandals are coming so quickly we hardly have the time to list them all, but rest assured that we are surely going to try.
Rodeo Announcers Take Flight
January 2008
by Johnna Espinoza, for prorodeo.com
The experiences changed their lives. Two already patriotic men gained new appreciation for the U.S. Armed Forces after spending time with military personnel last month in Nevada.
Texas rodeo announcers Bob Tallman and Boyd Polhamus were taken on special aircraft flights from Nellis Air Force Base, located in northeast Las Vegas prior to the 49th Wrangler National Finals Rodeo.
"When you see a service man or woman, it will make you want to salute them, hug them and thank them for dedicating their lives," Tallman said.
Tallman and Polhamus were in Las Vegas to announce the Wrangler NFR Dec. 6-15.
The announcers were flown over the Nevada desert and given a firsthand look at members of the military in action.
"I have an immense respect for the men and women of the United States Armed Forces," said Polhamus about his emotions as he walked to the aircraft lined with military personnel to greet him. "I had this feeling of 'I'm not worthy. I'm not worthy to wear this flight suit and to climb into this aircraft the way these guys do every day.'"
 For once, you're right, Boyd.
Polhamus went on a one-hour F-16 flight on Dec. 5 arranged by the U.S. Air Force Thunderbirds, Nellis Air Force Base officials and Boyd Gaming.
ProRodeo Hall of Famer Tallman took about a two-hour ride in a HH-60G Pave Hawk helicopter on Dec. 4, a flight that was also arranged by the U.S. Air Force, Nellis Air Force Base officials and Boyd Gaming.
Prior to going on the flights, the rodeo announcers submitted written information about themselves, went through health screenings and pre-flight training.
Due to previous rodeo injuries to his back, Tallman was not cleared to ride in an F-16. Tallman was not disappointed, though. In fact, it turned out he was well-suited for the helicopter, whose pilot inverted the aircraft. The ride also featured various desert maneuvers and 'war game' demonstrations.
"I went as a mission gunner and shot all the bullets (at a target) that they gave me," Tallman said. "I went six (g-forces), upside down, tipping it over, running the mission gun, going 120 miles per hour. It changed my life. I couldn't get enough of it." 
 I'm sure the airmen working in Iraq will be so relieved to know that Bob Tallman didn't feel left out.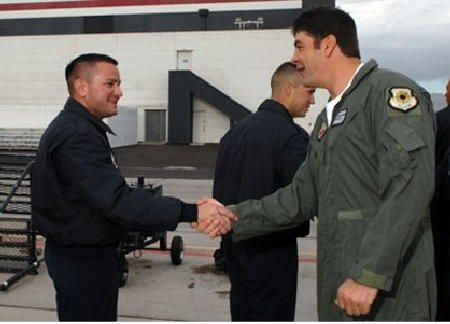 Boyd Polhamus: "Aw, shucks, nice to meet ya. I never see any real men at the rodeo."
Polhamus also had a good time. He pulled nine "Gs" and got a good rating from the pilot for not getting sick or fainting. 
One of the most memorable moments for Polhamus was speeding in the F-16 through a valley and feeling like the canyon walls were so close to him he could touch them.
At one point, the g-force was so intense Polhamus had to fight to keep his eyelids open.
However, Polhamus handled it all and got a pin, along with praise from the pilot.
"I was so ecstatic, I screamed. 'I didn't pass out,'" he said.
 Oooh goody, that big brave cowboy surprised himself by not fainting! 
Later that same day, it was announced that Polhamus had been voted the PRCA Announcer of the Year at the PRCA Awards Banquet held at the South Point Hotel, Casino & Spa.
"I thought, I'll have to live a long, long time to have another day like this," Polhamus said.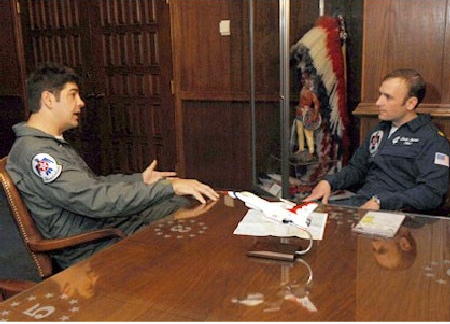 Is Cowboy Jethro imparting the finer points of brutally throwing a baby calf to the ground for our soldiers?
All photos courtesy U.S. Air Force Thunderbirds