Former rodeo queen sentenced for animal neglect
Associated Press - April 12, 2009
Douglas County Deputy District Attorney Julie Zuver says: "It's one of the worst animal abuse cases I've ever seen."

ROSEBURG, Ore. (AP) - A former Sutherlin Stampede rodeo queen must perform 160 hours of community service at an animal shelter after pleading no contest to animal neglect for starving her horses.
The Roseburg News-Review reported that 20-year-old Jessica Attaway of Roseburg began crying as she addressed a Douglas County judge during sentencing Friday.
But the woman who took Attaway's horses into her care last April said there is no excuse for the condition of the animals - near death, infested with lice and parasites, and locked in a barn overlooking a mowed field of grass.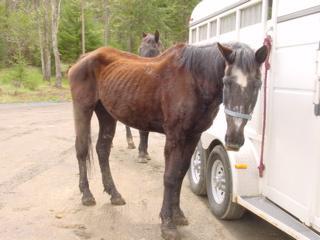 Darla Clark is the director of Strawberry Mountain Mustangs, a horse rescue organization in Dixonville. She told the judge that Attaway should have asked for help months earlier.
Information from: The News-Review, http://www.oregonnews.com
 
For more information and to find out the disposition of this case please click here.