January 16, 2010
Billings Gazette
MISSOULA - The sponsor of a benefit women's rodeo clinic that raised $50,000 for breast cancer victims at the Western Montana Fair says it is quitting the event following allegations the fair manager groped women.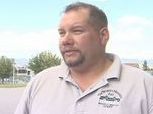 Scott Meader
Shannone Hart is co-founder of Chicks n Chaps. She said she was one of two women inappropriately touched by fair manager Scott Meader following a circuit finals rodeo in Great Falls last January.
Hart said the other woman who was groped was a rodeo queen.
Hart said the group doesn�t think the county has women's best interests in mind if officials turn their heads from inappropriate behavior by employees.
Meader said county officials dealt with the matter internally and declined to comment specifically about the allegations. He said he contacted an attorney on Thursday.
The County Commission plans to meet in private with Hart and Meader this week.