By David Montgomery
Capital Journal staff September 30, 2009
FORT PIERRE, SD - A 22-year-old Fort Pierre man was arrested Tuesday on charges of stealing a rodeo horse named Dually and treating him inhumanely.
Flint David Dahl is charged with grand theft, a felony, and inhumane treatment of an animal, a misdemeanor.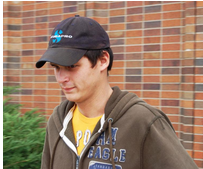 Flint Dahl
Courtesy Capital Journal
Grand theft is punishable by up to 10 years imprisonment in a state penitentiary and a fine of up to $20,000. Inhumane treatment of an animal is punishable by up to one year in a county jail and a fine of up to $2,000.
Dahl turned himself in Tuesday afternoon and was released after posting $5,000 bond.
No court date has been set.
An affidavit by Stanley County Deputy Sheriff Mike Rothschadl cites interviews with witnesses claiming to have seen Dahl riding a horse through Fort Pierre early in the morning of July 5. Several witnesses heard or saw the horse kicking vehicles and told investigators they saw the horse with numerous wounds.
Dually was recovered on Dahl's fathers property.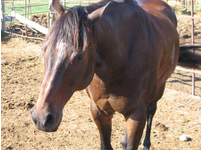 Dually
Courtesy Stanley County Law Enforcement
Dually's owner Wendy Halweg said she is relieved to hear of the arrest.
Im pretty excited that were making progress, Halweg said.
Multiple witnesses present at the fairgrounds around 4 a.m. July 5 told investigators they had seen one individual who was not charged riding the horse around a pen. Dahl, who was present at the time, told investigators he took the horse believing it belonged to another friend who was present.
That individual denied telling Dahl the horse was his and said he did not know Dahl well, the affidavit said.
After Dahl left the fairgrounds riding Dually, numerous witnesses reported seeing Dahl and the horse around Fort Pierre between 5:45 a.m. and 7:30 a.m., including at a house on Two Rivers Street, a nearby house on Wandel Avenue, the sidewalk on Deadwood Street and outside the Cowboy Country Store on First Street.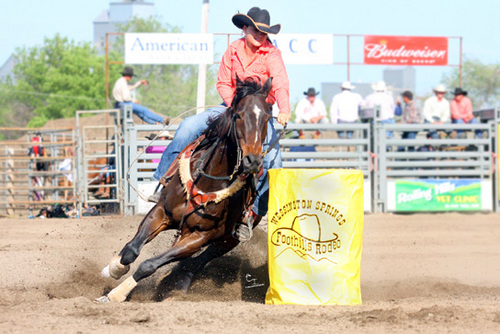 Dually
Courtesy The Daily Republic
Several witnesses reported seeing Dually with significant wounds, including bleeding legs, cuts and missing horse shoes. Witnesses also reported seeing Dahl riding the horse while it was injured.
Veterinarian Dr. Steve Tornberg told investigators Dually had suffered rope burns, minor lacerations, a quarter crack in a hoof and sore suspensory ligaments. Tornberg said he had not seen a horse with rope burns that numerous or serious in 30 years.
Halweg said Dually is slowly recovering. Dually was released from the veterinary clinic Aug. 5.
Hes making progress, Halweg said. Hes still in the stall. We hand-lead him he can only walk. We've tried to progress some trotting in there a little, but he has some tears in some suspensory tendons.
Halweg said Dually's medical costs have been a burden but not crushing.
The rehabs not so expensive, she said. It definitely has imposed some extra costs.
The investigation into Dually's disappearance took almost three months before an arrest warrant was signed. The affidavit shows interviews conducted through July 13 by Stanley County Sheriffs Deputies and as recently as Sept. 16 by agents with the state Division of Criminal Investigation.
Later interviews appear to have been focused on tracking down false leads in the case. Investigators interviewed several people tracing the origin of a text message claiming Dually had been deliberately abused by being roped and dragged across the pavement.
DCI agents interviewed multiple people who claimed to have knowledge about how Dually received his injuries.
None of these people were eyewitnesses and had merely repeated what they had heard, the affidavit said.
According to the affidavit, Dahl's father Dave Dahl paid $2,400 for damage Dually had done to a car after Dahl had tied it up next to the vehicle.
As part of the investigation, DCI agents obtained Flint Dahl's cell phone records on Sept. 15. One witness whose phone was called by Dahl early July 5 said Dahl had left voice mail messages talking about a horse.
Halweg said she never lost patience despite the long investigation.