Man Awarded $340,000 After Being Roped
Pulled down street by Clay Sullivan on horse during rodeo
February 18, 2008 
From WorldNetDaily.com
A tow truck driver has been awarded $340,000 by a jury in Wyoming after he was roped and yanked down the street by a cowboy who was providing "security" for the Cheyenne Frontier Days western festival.
The driver had been responding to a police call for him to move an illegally parked vehicle at the time of the confrontation, according to a report in the Wyoming Tribune-Eagle in Cheyenne.
The Laramie County jury found Cheyenne Frontier Days Inc, the corporate entity that stages the week-long western festival with rodeos, concerts and "chuck-wagon races" every summer, as well as a subcontractor responsible for injuries to Randy LeBeaumont.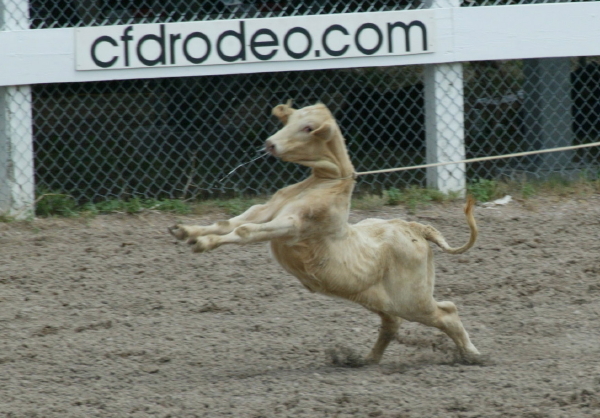 Cheyenne Frontier Days Cruelty. For more information and pictures of CFD cruelty please visit: www.ShameonCheyenne.com
The 49-year-old testified during his recent trial that city police let him past a barricade on the morning of July 24, 2004, and he estimated he was driving about five miles per hour when a horse ridden by Clay Sullivan pulled into his path, forcing him to stop, the newspaper said.
The two argued, and LeBeaumont testified he got out of his truck to emphasize his point. He told the courtroom that he was reaching back into the vehicle to get his cell phone to call police when he felt his arms being "sucked to his side."
"When did you realize there was a rope around you?" asked his attorney, Rhonda Woodard, the newspaper said.
"I don't know," he said. "When I was getting dragged down the street. It all happened fast."
He told the jury he was able to keep up a run for about 75 feet while being pulled along before he was able to free himself, the newspaper said.
"As fast as we were going," he said. "I just kept thinking, 'If I fall and go under those horses' feet, I'm going to be killed.'"
His lawyers told the court the 1,150-pound horse was pulling LeBeaumont, who weighs about 165 pounds, and left him with back, hip and leg injuries.
Woodard told the court her client can only respond to about 60 percent of his tow calls these days, requiring him to hire another worker.
A physician testified the man likely will need surgery to relieve pain from a back injury.
The newspaper said Sullivan, 49, was an "outrider" selected by Larry Romsa, a subcontractor at the festivities who provided horses, wagons, drivers and other cowboys for the rodeo's parades.
The jury originally awarded LeBeaumont $425,000, but the judge reduced the amount because the tow truck driver was found 20 percent liable.
Dave Johansen, executive director of the Frontier Days organization, said the board will meet and make plans for any changes they believe are necessary.
Defense lawyer Greg Greenlee said Sullivan was a "cowboy" who cared about his horse, and protecting the safety of spectators. Sullivan had pleaded no contest after the incident of violating a city ordinance of disturbing the peace, but was not a defendant in the damage claim.
The newspaper forum comments ranged from, "Hey, maybe we could hire this outrider and have him rope the city council and mayor and take them out of town!" from "David," to "A lot of peole do stay away because of the idiots wanna be cowboys during CFD," from Wyorebel.
"Cameron" added, "If any of those CFD inbred volunteer idiots tried roping me, I'd shoot him and his useless horse."