Posted: Aug 22, 2013
KTRE
By Caleb Beames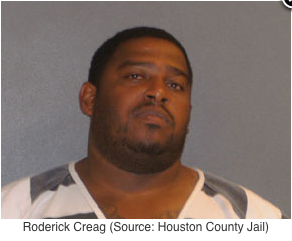 CROCKETT, TX
A 34-year-old Crockett man was found guilty of killing a Huntsville woman named Kimberly Caldera at a Houston County rodeo party in September 2012.
In addition to the first-degree murder charge, Roderick Demetrius Creag was found guilty of aggravated assault with a deadly weapon and felony possession of a firearm.
Creag appeared in the 349th Judicial District Court in Crockett Thursday. The state wrapped up its portion of the sentencing phase of the trial, and the defense is expected to finish up with its witnesses Friday.
Creag's charges stemmed from an incident that occurred in a pasture near the intersection of FM 2110 and County Road 3310 early the morning Sept. 1, 2012. A previous East Texas News story stated that location was the site of an annual party following the Myrtis Dightman Rodeo.