Bullfights are sadistic acts of animal torture. In April, 2011 SHARK learned that Diners Club International was sponsoring bullfights all over Latin America. According to DCI's website, 
Diners Club International is the official annual credit card sponsor of at least 54 bullfights in South America. In 2010, Diners Club has already agreed to sponsor the 42 bullfights in Quito and the 28 bullfights in Ambato, Ecuador.
Innocent bulls are speared, stabbed and die slowly as their blood pour onto the arena floor. And while these animals suffer, sick and morally corrupt crowds cheer the even more sick and vile matadors who perform the executions.
Bulls are not the only creatures to suffer in bullrings. Horses are sometimes attacked by the maddened bull who is experiencing utter agony and lashing out wherever he can. It is not unusual for horses used in bullfights to die as well.
This is the fate of these beautiful animals; to be used to entertain a crowd that lusts for blood and suffering.
Diners Club International, which is owned by Discover Financial Services, sponsors dozens of bullfights where bulls are tortured to death by gangs of armed thugs.

Please Watch our new video launching our campaign to get Discover/Diners Club out of the bullfighting business. Once you see the absolute cruelty involved, you'll want to join me in cutting up your Discover card.
Take Action!
Please e-mail or call Discover Financial Services' Chief Executive Officer David W. Helms and politely let him know what you think of Discover/Diners Club sponsoring cruel bullfights at:

Phone: 224-405-0900
email: This email address is being protected from spambots. You need JavaScript enabled to view it.
---
UPDATE! (April, 2013)
This has sadly been Discover Card's response to date. Ever hear of corporate responsibility? Here is a perfect example of corporate irresponsiblity; faced with the cruel truth that Discover owns Diners Club, and that Diners Club sponsors dozens of monstrous bullfights, the best response Discover could muster was...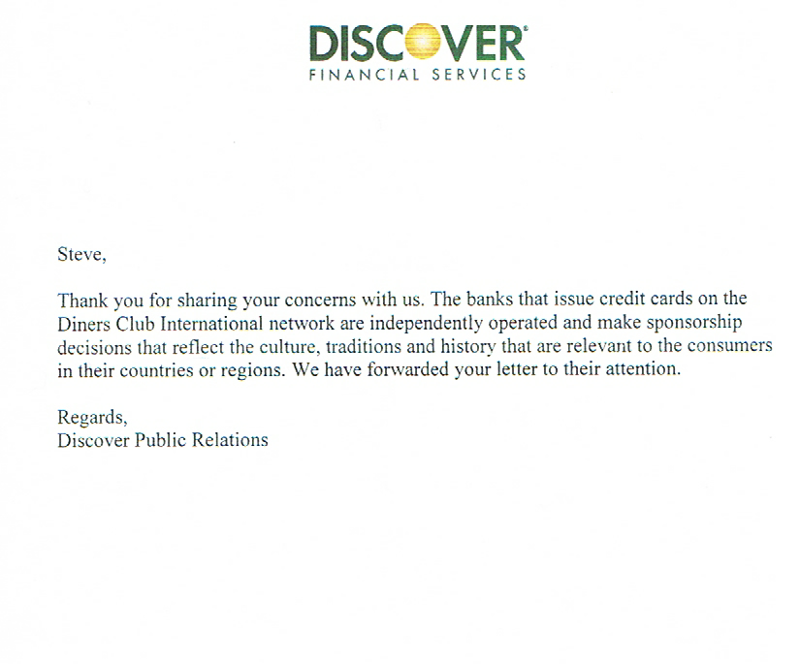 They then followed up with this email:
To Whom It May Concern:

This letter is in response to recent communications sent by one of your members to the Executive Office of Discover Financial Services ("Discover"). The communications make it clear that your members believe Discover is sponsoring bullfighting through one of its subsidiaries, Diners Club International ("DCI"). We are aware Diners Club Ecuador has sponsorship relationships involving bull fighting. Please allow us to clarify your understanding of Discover's/DCI's involvement and the extent of our relationship with Diners Club Ecuador.

Discover owns DCI, owner and operator of the Diners Club global payments network. DCI itself does not directly issue credit cards to consumers. Instead, DCI grants to licensees, like Diners Club Ecuador, the right to issue Diners Club branded credit cards and/or provide merchant acceptance services. Diners Club Ecuador is one of 80 licensees of DCI. The relationship between the two is strictly limited to an agreement that allows Diner Club Ecuador to issue credit cards that are processed on the DCI global Diners Club acceptance network.

Discover/DCI is not Diners Club Ecuador's parent corporation nor does Discover own any interest in the company. Diners Club Ecuador is independent of Discover and DCI. Therefore, marketing and sponsorship decisions made by Diners Club Ecuador are independently made. They did not seek nor were they required to seek Discover's approval for the sponsorship of bullfighting activity in Ecuador. Diners Club licensees are free to determine how they can best promote and develop a Diners Club card business.

We hope that this letter clarifies your understanding of Discover's lack of involvement in bullfighting sponsorship activity by the Diners Club Ecuador. Therefore, we ask that you cease communications with Discover regarding this matter and that you remove all material related to this issue and Discover/DCI from all social media forums. In return, and, as a courtesy to you, we have forwarded your concerns to Diners Club Ecuador and have urged that your concerns be reviewed and considered.

Regards,

Executive Offices
Discover