Wednesday, March 25th, 2009
Walker County Fair officials have decided to ban all still and video cameras at the Huntsville, TX rodeo. The decision to ban all cameras was apparently made because otherwise they would have had to allow an investigator with SHARK (SHowing Animals Respect and Kindness) to also film.
SHARK investigator Steve Hindi arrived at the Walker County Fairgrounds on Tuesday afternoon at approximately 1:45 p.m. Barrel Racing and Steer Roping Slack was set to begin at 2:00 p.m. Hindi observed signs proclaiming "NO STILL OR VIDEO CAMERAS ALLOWED." Inside the rodeo grounds, there were numerous people with video cameras, and Hindi observed a number of those cameras in use throughout the grounds even before the events began.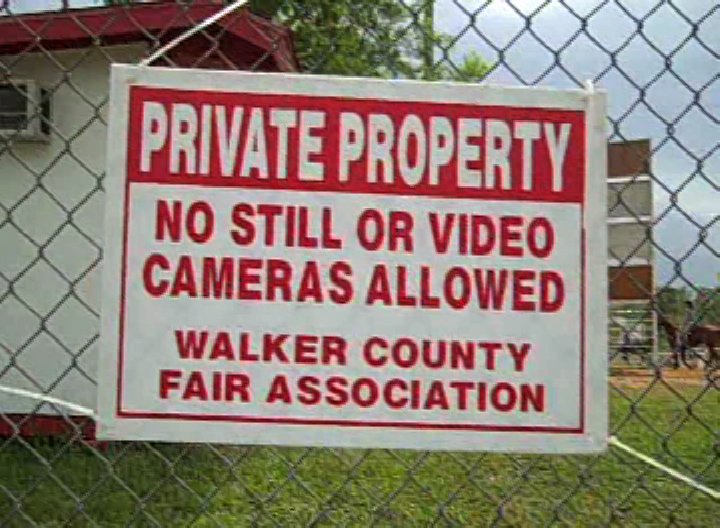 Hindi approached a county fair official and gave him the settlement agreement resulting from a Federal lawsuit in which SHARK sued the Professional Rodeo Cowboys Association (PRCA) for falsely claiming copyrights on rodeos. A settlement was reached in part because live rodeos are neither copyrighted nor copyrightable.
Additionally, as part of the settlement agreement, the PRCA paid $25,000 to SHARK, and agreed to the following:
"The PRCA, its subsidiaries, its agents and its affiliates...will not discriminate in their enforcement of any provision forbidding rodeo ticket holders or other attendees from videotaping or photographing rodeo events..."
When faced with this new reality, Walker County Fair officials decided to enforce a total ban on cameras in the middle of Tuesday's performance, much to the dismay of the numerous attendees already videotaping and taking pictures.
SHARK representatives will be on hand for the rodeo this weekend to make certain the ban is enforced. If the ban is not enforced, SHARK will return to Federal Court for redress.