MySuburbanLife
October 31, 2012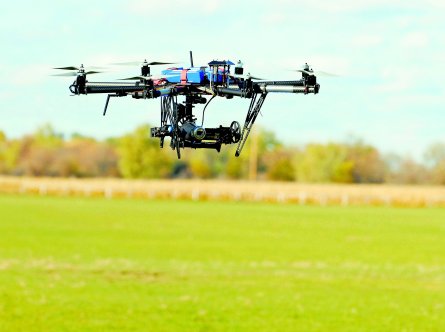 Investigators with SHowing Animals Respect and Kindness (SHARK) test fly one of their octocopters over an open field to check the battery life on Friday, Oct. 12. (Bill Ackerman - This email address is being protected from spambots. You need JavaScript enabled to view it.)
The walls of Steve Hindi's home were once adorned with the trophies of dead animals, such as that of a shark he caught and a king salmon.
Today, Hindi said he seeks to attain different kinds of trophies — that of media exposure of animal abuse, such as through articles in the Chicago Tribune and the New York Times.
Hindi is the president of the Geneva-based nonprofit Showing Animals Respect and Kindness, or SHARK.
Hindi and other members of SHARK recently began testing a new version of their remote-controlled flying octocopter in a field in the Geneva area.
Looking like a mini-UFO, the octocopter shoots into the sky about 400 feet as Hindi and SHARK member Mike Kobliska monitor from the ground.
They attach a video camera to the octocopter, nicknamed "angel," and use it to spy on anyone suspected of abusing animals.
"We name it our angel because it's looking after the animals," said Janet Enoch, SHARK member and Hindi's girlfriend.