July 10, 2008
BY JOE PAISLEY
THE GAZETTE
This week's Pikes Peak or Bust Rodeo has rules against using electronic livestock prods, but an activist who travels to rodeos nationwide says the practice is widespread in a sport that he says encourages cruelty to animals.
Pikes Peak or Bust Foundation president Rob Alexander said the rodeo bars livestock contractors from using electronic prods and any artificial stimulant for horses or livestock. Such a rule is stricter than the Colorado Springs-based Professional Rodeo Cowboys Association regulation that allows electronic prods to the hips and shoulders when an animal is stalled in a chute.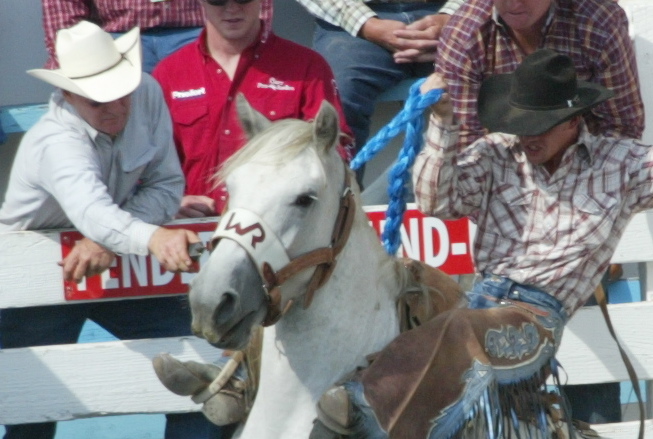 Head stock contractor Ike Sankey, shocks a horse in the face, in violation of the PRCA's supposed "humane rules" at the 2007 Pendleton Round-Up. Photo taken by SHARK.
"We ride those livestock contractors pretty hard," Alexander said. "Several of us on the higher level at the rodeo also ranch. A lot of those things are the last thing we'd use."
Showing Animals Respect and Kindness president Steve Hindi of Illinois would like to believe it. But a series of PRCA rule violations he's witnessed or fellow SHARK members have videotaped make him doubtful. Hindi has video and photos he says show rodeo officials and stock contractors using handheld shock devices on an animal's face to motivate it. Many are small enough to be held in the palm of someone's hand and are called "hotshots."
"If the Pikes Peak rodeo is serious about it, that's a good thing and I applaud them for it," he said. "We haven't been there so we don't know for sure. Generally speaking we are told they don't use hotshots until we catch them."
PRCA livestock welfare coordinator Cindy Schonholtz said a few livestock contractors have been fined over the years for rule violations but declined to name them.
"I've never known of anyone being fined for one to the face," she said. "Judges would report if they're not used within our standards. Veterinarians are required at all rodeos and I've never had a vet come to me about harm being done. We don't have statistics but violations are very rare."
To be used legally, a rodeo judge, the cowboy and the stock contractor must agree to use prods when an animal is stalled during competition.
Schonholtz said that videos she has seen alleging rule violations rely on awkward camera angles. She said she's never seen a photo showing an animal being shocked in the face by a cattle prod.
SHARK says it witnessed violations at rodeos in Denver, Cheyenne, Wyo.; California, Oregon, Oklahoma and at the National Finals Rodeo in Las Vegas.
"The problem is very widespread," Hindi said. "It even happens at their premier event. This is a sport that is cruel to animals."
PRCA pamphlets concerning pro rodeo livestock welfare quote veterinarians from around the country who praise rodeo for its humane treatment of animals. Those quoted stress they make their living from livestock and do not want these valuable animals hurt.
The livestock companies hired for the Pikes Peak or Bust Rodeo are Bad Company, Frontier, Harry Vold and Triple V. None of those were named by SHARK as companies that violated the rules about shocks to the face.
From Hindi's viewpoint, that may change. He hinted that representatives may come to Colorado Springs but could not confirm his plans when interviewed.