Police Called After Rodeo Thug Assaults Young Female Investigators at Cheyenne Frontier Days Rodeo; CFD Representative Witnesses Assault, Then Denies It  
 
CHEYENNE – Two females with an investigative team at the Cheyenne Frontier Days Rodeo were attacked by a rodeo supporter Sunday – one woman was verbally assaulted and another physically assaulted, according to a national animal protection organization.  Police took reports from the victims, and are investigating.
 
Watch the video of the assault 

HERE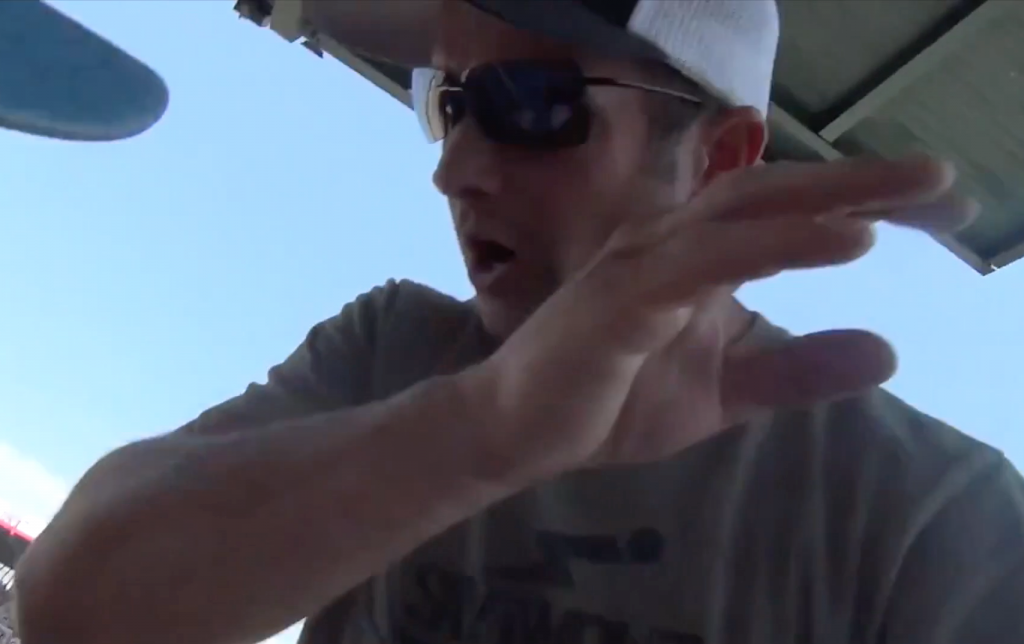 The assailant as he goes after one of SHARK's Investigators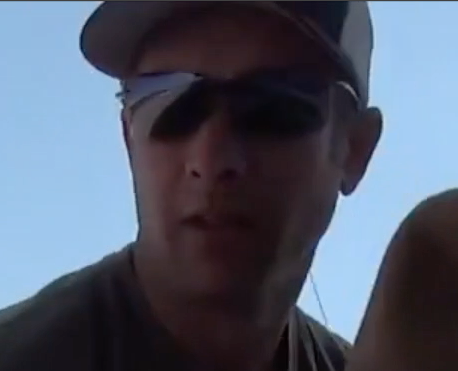 The face of a coward
Investigators with SHowing Animals Respect and Kindness (SHARK) are currently documenting animals brutalized and injured at the Cheyenne Frontier Days Rodeo in Cheyenne, Wyoming.  They documented at least two horses being electric-shocked in the face earlier in the rodeo this weekend.
 
SHARK is withholding the last names of the two victims to keep them from being further targeted by hostile rodeo attendees and supporters.
 
"I was sitting in my assigned seat when a male came over and started harassing me," stated Miranda. "He was much larger than me, brutish and intimidating  - and he was right in my face. He was leering and scary. I tried to call security, but the line was busy. The call was enough to get him to walk away from me, but then he then picked another target - my friend and fellow investigator, Kate."
 
"The man came right up to me, told me to stop filming, then roughly grabbed my camera and my arm," states Kate. "I was shocked, felt in personal danger and just instinctively yelled at him to stop assaulting me. Thankfully that scared him away before anything else could happen."
 
Miranda quickly found a CFD volunteer/representative and asked for help: "I just wanted someone to help, but the volunteer became belligerent. He said he saw everything and called me a liar," added Miranda. "His actions made me feel even more unsafe than I did before."  Miranda was finally able to get in touch with Bill Vernon, a security official with the CFD.  The police were called, who took statements from both women.
 
"Only a sadistic coward picks on two young women, and verbally and physically assaults them," said SHARK President Steve Hindi. "A CFD representative made an already traumatizing situation even worse.
 
"The coward who harassed Miranda (5 ft-3in) and assaulted Kate (5 ft even) may have physically towered over them," states Hindi, "but the truth is their bravery made them giants. If these rodeo thugs think they can scare us away, it just shows how ignorant they are. They may get away with assaulting animals in that arena of torment, but they'd better rethink their actions against us."
 
CFD's Code of Conduct includes a policy of non-harassment of attendees is worthless, but Hindi said these type of incidents have happened year after year.  SHARK called on the Cheyenne police to find and charge the assailant.  

Hindi said he will consult with SHARK's lawyer on Monday.
---
Demand Action from the Cheyenne Mayor and Police Department
SHARK President Steve Hindi spoke with Cheyenne Police Supervisor Peterson last night and Sergeant Smith this morning. They both promised to take action, but have done nothing. 

This is an outrageous situation; they are treating the assault of a young woman with the same indifference they give to the animals that are brutalized at the rodeo.
 
This is an emergency situation! Please contact the Cheyenne Police Department and the Mayor and demand that they post an officer near SHARK's investigators, to protect them from sadistic thugs who assault young women.