August 27, 2013
Live Pigeon Shoots Illegal Under Current Pennsylvania State Law
DEAR FRIENDS,


Please join us in calling on Pennsylvania Attorney General Kathleen Kane to stop the impending Labor Day pigeon shoot (August 31 and September 1, 2013) to be held at Wing Pointe in Berks County. 
Phone:
717-787-3391

Email:


This email address is being protected from spambots. You need JavaScript enabled to view it.
 SHARK has sent the following letter and supporting documents to Pennsylvania Attorney General Kathleen Kane and Pennsylvania State Police Commissioner Frank Noonan, which sets forth the legal reasons why live pigeon shoots are illegal under current state law, and demanding that action be taken to stop an impending two-day shoot to be held Labor Day weekend in Berks County.
Pennsylvania statute 5511 states that you cannot ill treat, abuse or abandon  "any animal." There is no exemption for pigeons under the cruelty statute, meaning that they are, in fact, covered under it. They are also not part of the game code [see letter from the PA Game Commission]. Therefore it is not a question of if pigeon shoots are illegal, but why won't the authorities stop them?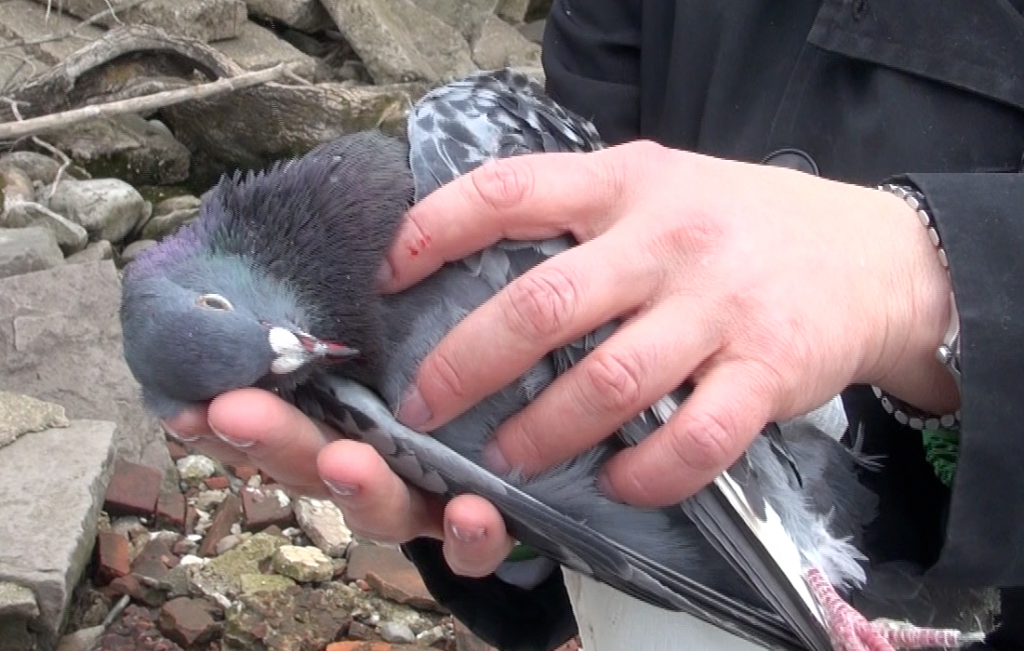 Just one of tens of thousands of victims of illegal live pigeon shoots in Pennsylvania
SHARK's letter includes links to video statements supporting the illegality of pigeon shoots from the former Executive Director of the Pennsylvania State SPCA and current Executive Director of the Berks County Humane Society, a letter from the Pennsylvania Game Commission stating that pigeons are not in the game code, two reports exposing the conflicts of interest with the district attorneys of Bucks and Berks counties, which explains why they have refused to take action against pigeon shooting operations under their jurisdiction.

Finally, the letter contains a link to a recent video narrated by TV icon Bob Barker which contains video evidence of the cruelty committed at live pigeon shoots.
Video statements that pigeon shoots are already illegal:
Dear Attorney General Kane,
My organization, SHowing Animals Respect and Kindness (SHARK), has video-documented horrific acts of animal cruelty that have occurred at numerous live pigeon shoots in Pennsylvania.
Each of these shoots, where pigeons who have been deprived of food and water are launched from small boxes and then shot for fun, result in hundreds if not thousands of violations of Pennsylvania state law.
It's critical to understand that pigeon shoots absolutely violate current Pennsylvania law. Without question, the intentional wounding and subsequent mistreatment of hundreds of animals at pigeon shoots constitutes cruel ill-treatment, abuse, neglect, and abandonment of animals (including banded pigeons) in violation of Pennsylvania's Animal Cruelty Code, 18 Pa. C.S.A. §§ 5511(c) and (k).
5511(c) of the cruelty code provides that:
A person commits a summary offense if he wantonly or cruelly illtreats, overloads, beats, otherwise abuses any animal, or neglects any animal as to which he has a duty of care, whether belonging to himself or otherwise, or abandons any animal, or deprives any animal of necessary sustenance, drink, shelter or veterinary care, or access to clean and sanitary shelter which will protect the animal against inclement weather and preserve the animal's body heat and keep it dry.
SHARK has video documentation of pigeons being beaten, kicked, stomped and torn apart by hand. We have video documentation that once the birds are forcibly launched from the boxes they were shoved into, that they are abandoned. Some victims may have the strength to fly to neighboring properties, some may make it just a few yards from where they were shot, but all these abandoned animals have little to no hope of surviving.
These birds suffer pain and stress from their gunshot wounds for hours or days until they die from their wounds, predation, starvation, thirst, infections or infestations related to their wounds. In the case of the Philadelphia Gun Club, which borders the Delaware River, pigeons may also drown in that water.
Though we have rescued dozens of wounded pigeons that have been abandoned, nearly 50% of the birds we are able to retrieve die within a few days, because their emaciated bodies have suffered terminal damage from having not been fed of given water for days before the shoot.
The cruelty code further provides that, "(a) person commits a summary offense if he shoots, maims or kills any antwerp or homing pigeon ... or detains or entraps any such pigeon which carries the name of its owner." Id. at § 5511(k).
SHARK has video evidence of dead and wounded birds that have been banded. This evidence, along with all the other evidence we have collected, has simply been ignored by district attorneys in both Berks and Bucks County, where major pigeon shooting clubs are located, and who we have discovered have significant campaign/financial ties to the participants and defenders of the shoots. I am including with this letter reports exposing these improper ties and relationships so that you will understand exactly why pigeon shoots have been allowed to continue.
One argument that pigeon shoot supporters try to make is that they are protected by the game code. This is patently false.
On June 15, 2012, we received a letter from the Pennsylvania Game Commission explicitly stating that pigeons are not part of their game code and that they have no jurisdiction over them.
"Pigeons are not included in 50 CFR [U.S. Fish and Wildlife code], they are not listed in the definition of "game birds", and they are not designated by the commission, thus, by statute, the Pennsylvania Game Commission has no legal authority to regulate any issue involving pigeons."
On August 31 and September 1, 2013, a major two-day long shoot is planned at the Wing Point commercial hunting grounds in Berks County, PA. Thousands of birds will be shot and abandoned. Thousands of violations of Pennsylvania state law will occur. We ask that you take immediate action to keep this from happening
The law is clear. We have literally dozens of hours of evidence. All that remains is for someone in authority in Pennsylvania willing to see that current laws are enforced to stop these illegal pigeon shoots.
Showing Animals Respect and Kindness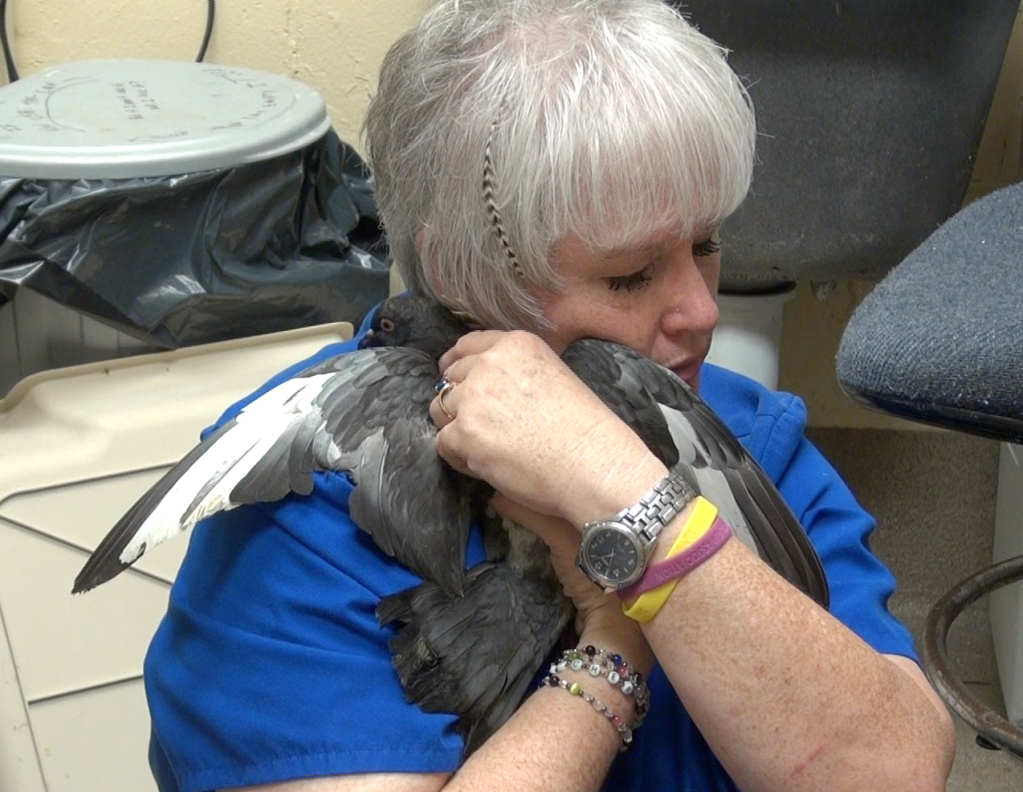 A wounded pigeon that SHARK rescued being held by a wildlife rehabilatator

---
  Donate Your Vehicle and Help Animals!
Just follow these 3 simple steps:

Step 1: Contact Us
We'll schedule a time to have it towed at no cost to you, and the title and sales paperwork will be taken care of for you.
Step 3: Receive Your Tax Deduction
In a couple of weeks, you'll get a receipt with the donation value for tax purposes. It's that easy.
Your donation will help us continue our important work of exposing and stopping rodeo cruelty, rescuing and documenting injured birds at cruel and illegal live pigeon shoots, and much more. SHARK receives, on average, nearly 80 percent of the proceeds from donated vehicles sold at auction or for salvage. One car really does make a difference.