Sheryl Crow's rodeo appearance criticised
July 8, 2011 Horsetalk.co.nz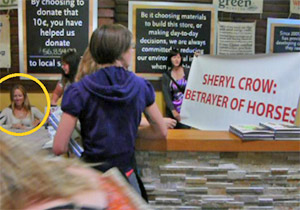 Singer and wild horse supporter Sheryl Crow has come under fire for her decision to perform at the Cheyenne Frontier Days rodeo.
A horse receives 5000 volts on the neck from a device called a "Hot Shot" at Cheyenne Frontier Days Rodeo in 2008. The rodeo announced afterwards it would no longer uses such devices.
The rodeo has been criticised in recent years by SHARK (SHowing Animals Respect and Kindness), after video footage of the shocking of bucking horses was released.
Following pressure from fans, Crow released a statement yesterday about her appearance at the rodeo.