Group cries foul in death of steer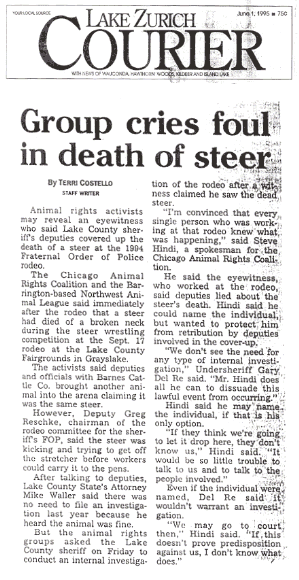 Lake Zurich Courier
June 1, 1995
By TERRI COSTELLO
STAFF WRITER
Animal rights activists may reveal an eyewitness who said Lake County sheriff's deputies covered up the death of a steer at the 1994 Fraternal Order of Police rodeo.
The Chicago Animal Rights Coalition and the Barrington-based Northwest Animal League said immediately after the rodeo that a steer had died of a broken neck during the steer wrestling competition at the Sept. 17 rodeo at the Lake County Fairgrounds in Grayslake.
The activists said deputies and officials with Barnes Cattle Co. brought another animal into the arena claiming it was the same steer.
However, Deputy Greg Reschke, Chairman of the rodeo committee for the sheriff's FOP, said the steer was kicking and trying to get off the stretcher before workers could carry it to the pens.
After talking to deputies, Lake County State;s Attorney Mike Waller said there was no need to file an investigation last year because he heard the animal was fine.
But the animal rights Groups asked the Lake County sheriff on Friday to conduct an internal investigation of the rodeo after a witness claimed he saw the dead steer.
"I'm convinced that every single person who was working at that rodeo knew what was happening," Steve Hindi, a spokesman for the Chicago Animal Rights Coalition.
He said the eyewitness, who worked at the rodeo, said deputies lied about the steer's death. Hindi said he could name the individual, but wanted to protect him from retribution by deputies involved in the cover-up.
"We don't see a need for any type of internal investigation," Undersheriff Gary Del Re said. "Mr. Hindi does all he can to dissuade this lawful event from occurring."
Hindi said he may name the individual, if that is his only option.
"If they think we're going to let it drop here, they don't know us," Hindi said. "It would be so little trouble to talk to us and to talk to the people involved."
Even if the individual were named, Del Re said it wouldn't warrant an investigation.
"We may go to court then," Hindi said. "If this doesn't prove predisposition against us, I don't know what does."