Eyewitness: Steer died, but blame misdirected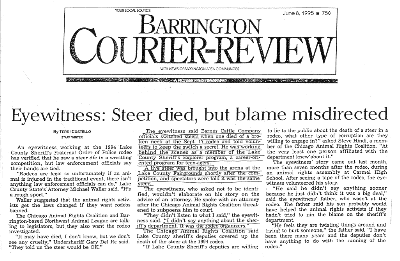 Barrington Courier-Review
June 8, 1995
By TERRI COSTELLO
STAFF WRITER
An eyewitness working at the 1994 Lake County Sheriff's Fraternal Order of Police rodeo has verified that he saw a steer die in a wrestling competition, but law enforcement officials say their hands are tied.
"Rodeos are legal so unfortunately if an animal is injured in the traditional event, there isn't anything law enforcement officials can do," Lake County State's Attorney Michael Waller said. "It's a rough sport."
Waller suggested that the animal rights activists get the laws changed if they want rodeos banned.
The Chicago Animal Rights Coalition and Barrington-based Northwest Animal League are talking to legislators, but they also want the rodeo investigated.
"It may have died, I don't know, but we don't see any cruelty," Undersheriff Gary Del Re said. "They told us the steer would be OK."
The eyewitness said Barnes Cattle Company officials switched steers when one died of a broken neck at the Sept. 17 rodeo and told volunteers to keep the switch a secret. He was working behind the scenes as a member of the Lake County Sheriff's Explorer program, a career-oriented program for teen-agers.
A live steer was brought into the arena at the Lake County Fairgrounds shortly after the competition, and spectators were told it was the same steer.
The eyewitness, who asked not to be identified, wouldn't elaborate on his story on the advice of an attorney. He spoke with an attorney after the Chicago Animal Rights Coalition threatened to subpoena him to court.
"They didn't listen to what I said," the eyewitness said. "I didn't say anything about the sheriff's department. It was the rodeo organizers."
The Chicago Animal Rights Coalition said Lake County sheriff's deputies covered up the death of the steer at the 1994 rodeo.
"If Lake County Sheriff's deputies are willing to lie to the public about the death of a steer in a rodeo, what other type of corruption are they willing to engage in?" asked Steve Hindi, a member of the Chicago Animal Rights Coalition. "At the very least one person affiliated with the department knew about it."
The eyewitness' story came out last month, more then seven months after the rodeo, during an animal rights assembly at Carmel High School. After seeing a tape of the rodeo, the eyewitness volunteered his story.
"He said he didn't say anything sooner because he just didn't think it was a big deal," said the eyewitness' father, who wasn't at the rodeo. The father said his son probably wound have helped the animal rights activists if they hadn't tried to pin the blame on the sheriff's department.
"He feels they are twisting things around and trying to hurt someone," the father said. "I have been there many years and the deputies don't have anything to do with the running of the rodeo."