SHARK: 'Joy and Lady deserve better'
Administration agrees bears' safety always important priority
Oct. 8, 2004
By RIAZ DHANANI, reporter
In an effort to impact the future of the new proposed bear habitat, animal rights group, Showing Animals Respect & Kindness, or SHARK, once again has raised concerns about the bears' care to Baylor administration.
Pat Vinet, the Baylor Campaign Coordinator for SHARK, recently sent a letter to President Robert B. Sloan Jr. that specifically listed SHARK's grievances with Baylor's bear care and current living conditions.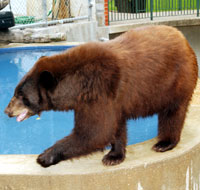 File photo
Plans are underway to build a new, bigger and more natural living environment setting for Baylor's beloved brown bear mascots, Joy and Lady.
"The bears need a natural environment where they can live as bears do in the wild," Vinet said. "The issues of housing, life-long care and the continued hauling of the bears to raucous sports events must be satisfactorily resolved. Joy and Lady deserve better than this."
In her letter, Vinet made references to Dr. Eileen Hulme, who has general oversight of the Baylor Chamber of Commerce, which is in charge of the bear program. The two spoke with each other about a year ago, according to Vinet.
Hulme, vice president of student activities, said the bears' safety is always a priority.
"My approach has always been to want to hear [SHARK] out because when it comes down to it, we are both working for the same goal and that is to have the best bear program possible at Baylor," Hulme said. "I'm a huge animal lover, and if I thought that we were doing anything that would endanger the bears, then I would be the first one to put that to an end."
In her letter addressed to Sloan, Vinet argued about Baylor's inconsistency with information regarding the size of the Bill and Eva Williams Bear Habitat Complex, which is not yet built.
"When we originally discussed size with Dr. Eileen Hulme...she told us that it would be three times larger than the current one," Vinet wrote. "Now Baylor is saying that it will double in size."
In response to Vinet's letter, Hulme denied the accusation.
"I know for sure that I never told [Vinet] that the new habitat would be three times larger." Hulme said. "Where would we put a pit that would be that big?"
Hulme also noted that current plans for the new habitat are conceptual in nature and are by no means final.
Another major issue posed by SHARK in Vinet's letter is the bear's recent attendance to football games.
"We are also very disappointed that Baylor has backpedaled on its promise to greatly curtail the use of bears as props at home games," Vinet wrote. "Baylor's own publications admit that Texas A&M vets say that placing the bears in such a loud and chaotic environment isn't good for them, and you temporarily stopped the practice altogether. Unfortunately, the bears are back at the home games once again."
Charles Lucenay, a Baylor bear trainer, said he makes his decisions on what is in the bear's best interest.
"The bears attending the games is evaluated on a case-by-case basis," Lucenay said. "If the bear does not feel comfortable at a football game, then we are not going to be there. I have taken both bears to a game and Joy did not really seem to be comfortable, so I took her home. On the other hand, Lady handles that atmosphere wonderfully and does not seem to mind. If Lady begins showing signs that she is uncomfortable at games then her attendance will definitely need to be addressed and Dr. Jenson [the bears' veterinarian from Texas A&M] would agree that she no longer attend."
Lucenay had a similar response as Hulme to Vinet's letter and the SHARK organization.
"A lot of the letter that they wrote was inaccurate," Lucenay said. "Something that we've run into a lot in dealing with SHARK has been that they like to publicize things that just aren't true. We do have a good program and our bears get a lot of attention, a lot of love and a lot of care."
Vinet still sees tremendous improvements are needed.
"There are still significant problems that need to be rectified," Vinet wrote. "It would be a shame to spend a lot of money only to have the mascot controversy not only remain, but intensify."
SHARK claims the organization doesn't want to be involved with Baylor's affairs beyond what they consider is necessary.
Both Vinet and Hulme believe they are doing what is in the best interest of the live mascots.
"We are probably never going to come to agreement on what should happen in the bear program, but I think the essence of what we are trying to accomplish we can find a lot of agreement on." Hulme said.
According to a Sept. 6, 2002 Lariat article, in the summer of 2002, 16-year-old Jeremy Beckham from Utah attended a debate camp. Beckham informed Steve Hindi, volunteer president of SHARK, and his mother, Colleen Gardner of observations and concerns about the bear pit.
SHARK held a press conference Sept. 5, 2002, challenging Baylor to a "showdown" over the treatment of the live mascots.
Adam Ylitalo, former bear trainer, said in the Lariat article that Baylor had "plans to expand the pit" before the concerns were raised.
Currently, Baylor has a goal to raise $950,000 for the new Bill and Eva Williams Bear Habitat Complex.