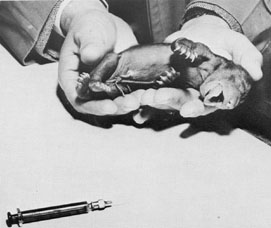 Baylor incompetence led to the tragic deaths of many bears at the university. This baby, named "Little Princess," was among many babies mauled to death by adult bears due to Baylor caretakers' lack of knowledge of basic bear behavior.
Baylor University bear "mascot" deaths
The following are excerpts from the book:
Here Come the Bears
The Story of the Baylor University Mascots
Author: Eugene W. Baker
(1996)
This book details some but not all of the suffering of the Baylor bears over the decades of the bear mascot program. Incredibly, the book was written by a Baylor supporter! We believe this book demonstrates the mindset of supporters of Baylor's bear mascot program, and reveals the true role of the bears -- as objects of entertainment and servitude.
Page 18
On one occasion, while tied up, Betty Co-Ed decided to climb and explore the tree. In the attempt she became entangled in the rope and fell from the tree.
The rope tightened around her neck and began to choke her. Her sounds and scuffling attracted the attention of two young men who rushed to her aid. With some difficulty they eventually freed her from her predicament.
Instead of being grateful to the men who released her, she charged them both. One of the men, A.W. Dub Norton tried to kick Betty Co-Ed, who though hurt was still agile enough to bite the end of his shoe off. University officials soon decided that it was unsafe to keep the bear on campus and persuaded Baylor benefactor M.P. Daniel to allow Betty Co-Ed to live on his property in Liberty, Texas. She remained there for some time but eventually broke loose and was killed by a farmer.
Page 30
Josephine would give birth to two cubs in January 1949. Unfortunately, one would be destroyed by Big Joe at birth.
The other, which was named Little Princess, would live only a few hours in spite of heroic efforts by local veterinarians.
Her death was attributed to the injuries she received during a fight between Josephine and big Joe. Baylor Chambermen buried the infant bear in a specially made coffin and placed a head marker on the grave which read, "Sleep Little Princess."
Big Joe and Josephine would produce another pair of cubs the following year. Named Barney and Bailey, they would quickly become the darlings of the campus. In 1951 Josephine would become the mother of triplets, none of which would survive.
It would be several more years before any of Josephine's other offspring would live more than a few hours, but in 1959 she would give birth to Rusty and Dusty.
Page 33
While returning in a driving rainstorm, the wooden trailer in which Chita was riding came loose causing the car that was pulling it to overturn. Chita's trailer then struck an oncoming vehicle. Luckily no one was injured, but Chita suffered a broken leg.
Page 40
Bailey had died in a tree climbing accident.
Page 47
In the early morning hours on Friday, November 10 (1961), University of Texas students raided the Bear Pit and attempted to kidnap Ginger. As they were pulling her across the moat the bear and a student got tangled in the same rope with each lashing out against the other for protection. In fear for his life, the student hit Ginger on the head with a wrench and killed her.
Page 57
In October 1969, after having been at Baylor about three months and shortly after his first and only performance at a football game, Bruno was found dead hanging from a tree. There were rumors that some students had wrapped the bear's chain around his neck, perhaps as a prank, and that this had caused his death.
Page 70
During a filming of a local television show at the Bear Plaza, Judge the 9-year-old 625-pound pit bear, was lured from a shady area with a Dr Pepper. Chuck was then placed next to him. Suddenly Judge, evidently not wanting to share the drink, attacked the 55-pound cub. Trainers used every means available to separate the animals, but Judge was too powerful and Chuck was mortally wounded.
Partial List of Dead Baylor Bears
Based on information from Here Come the Bears
(Please note that the average bear life span is 25 years)
| | | | |
| --- | --- | --- | --- |
| Death Date | Name | Age | Cause |
| Late 1920s | Betty Co-Ed | Unspecified | Shot by farmer |
| 1949 | Nameless cub | Newborn | Killed by adult bear |
| 1949 | Nameless cub | Newborn | Killed by adult bear |
| 1950 | Nameless cub | Newborn | Killed by adult bear |
| 1951 | Nameless cub | Newborn | Killed by adult bear |
| 1951 | Nameless cub | Newborn | Killed by adult bear |
| 1951 | Nameless cub | Newborn | Killed by adult bear |
| 1952 | Nameless cub | Newborn | Unspecified |
| Early 1950s | Bailey | Aprox. 2yrs | Tree climbing accident |
| 1953 | Nameless cub | Newborn | Killed by two adult bears |
| 1955 | Nameless cub | Newborn | Unspecified |
| 1955 | Big Joe | 15 years | Not specified |
| 1961 | Josephine | 16 years | Not specified |
| 1962 | Barney | 12 years | Pneumonia |
| 1969 | Bruno | Aprox. 1 yr | Hung from tree |
| 1982 | Chuck | 5 mo. | Killed by adult bear over Dr. Pepper |
---
Eyewitness accounts of one Baylor "trainer's" abuse
- September 4, 2002
During the construction of the Black Bear Habitat here at Austin Zoo, Brandon Adley, the Baylor Bear "Handler" made a visit to the construction site with "Bobby." This visit was to show Bobby his new home. Brandon also brought Bobby to Austin Zoo to move in permanently and to give me a few bear handling pointers. From what I saw and heard, it was most likely the last times Bobby had unprotected contact with humans. Bobby who was now over two years old, was often annoyed with Brandon, who on several occasions resorted to kicking Bobby in the testicles and pulling the chain around his neck to control him. During this time I also witnessed Brandon wielding and striking Bobby with a pair of "nunchucks." These are martial arts weapons consisting of two sticks of wood held together with a length of chain. Brandon would hold one stick and flick the other up and at Bobby, again hitting him in the testicles. - Jim Carroccio / Austin Zoo Habitat Manager
- May, 1996
In May of 1996 I saw Brandon Adley kick Bobby the Baylor bear in the testicles as a means of controlling Bobby. - Terry Polk
---
Shot, Beaten, Beheaded and Skinned -- The Horrific Case of Queso the Cat
ANIMAL PEOPLE
May 2002
Hangin' judge Roy Bean "justice" prevails in Texas for feral cats
WACO, Texas--Circa 1883, Val Verde County justice of the peace Roy Bean, "The Law West of the Pecos," ruled at one of the most infamous trials in U.S. history that "There ain't no law in the state of Texas against killing a Chinaman."
That verdict was recalled on March 19 in Waco when a McLennan County jury decided that there is no law in the state of Texas against killing a feral cat, no matter how it is done.
The three-man, three-woman jury deliberated for just 55 minutes before finding former Baylor University pitcher Derek Brehm, 21, innocent of misdemeanor cruelty for admittedly shooting a cat named Queso with a pellet gun on the patio of a Taco Cabana restaurant in March 2001, battering the cat with a golf club, and then decapitating him, skinning his head.
Defense attorney Ross Hunt convinced the jury that the Texas anti-cruelty statute does not apply to feral cats because it defines "animal" as a domesticated or captured creature, to avoid application to hunters and trappers.
Hunt argued that Taco Cabana night manager Teresa Jones had not domesticated or captured Queso, although she did feed and name him.
Hunt also asserted that Queso was not tortured because, Hunt claimed, Queso must have been dead after he was shot, even though Jones said Queso was still alive when Brehm and former Baylor outfielder Clint Bowers, 22, drove him away to hit him with the golf club--to make sure he was dead, again by their own admission.
After Brehm was acquitted, prosecutor Crawford Long dropped cruelty charges against Bowers, since the evidence against him was the same.
Brehm and Bowers were both suspended from the Baylor baseball team for eight games. Brehm was dropped from the baseball team after a September 2001 arrest for drunk driving. He lost his scholarship to attend Baylor as result of that offense, did 50 hours of community service at the Waco animal shelter for the drunk driving charge, and then transferred to the University of Texas at Arlington. Bowers is still attending Baylor, but is no longer playing baseball.
Dallas attorney and Animal Legal Defense Fund president Robert "Skip" Trimble told reporters that the Queso case exemplifies the need to update and improve the Texas cruelty statute.
Merritt Clifton
Editor, ANIMAL PEOPLE
P.O. Box 960
Clinton, WA 98236
Telephone: 360-579-2505
Fax: 360-579-2575
E-mail: This email address is being protected from spambots. You need JavaScript enabled to view it.
Web: www.animalpeoplenews.org
---
Baylor President throws dog out 3rd story window
Even before the Baylor live mascot program began, Baylor seemed to be a place where cruel people felt they could act out their character defects. One such story included at Baylor's website involves one of its presidents, Oscar Henry Cooper, who was president from 1899 to 1902. Cooper was quite a piece of work, as the following paragraphs from the Baylor site demonstrates:
According to J. M. Dawson, a student at the time, "some prankish students sneaked a howling dog into the small upstairs chapel on the lofty third floor of Main. When the perverse little animal disturbed the worship the president became enraged. He (Cooper) leaped down from the platform, seized the dog and hurled it through a window to the ground below. The act appalled everybody, because it showed a lack of control deemed inexcusable, although under most exasperating circumstances."
No mention of the obvious and egregious cruelty; most Baylor people were appalled at Cooper's "lack of control." There is no mention of what happened to Cooper's victim, labeled as "perverse" and "exasperating." The students involved were merely "prankish."
Interestingly, the article continues with the following:
Cooper apologized for his rash action, but according to Dawson "a gifted pugnacious youngster named J. Frank Norris led a sensational student uprising against him." The final result was the tendering of his resignation at a called meeting of the trustees.
We hope that caring and sensitive students at Baylor will once again take a stand against abuse, and will stop the abuse of the Baylor bears. As Mr. Norris proved in 1902, such a movement can start with one person.