In Our View:

Intelligencer Journal
Apr 22, 2013
There is nothing "sporting" about shooting birds from close distance as they attempt to flutter out of a cage.
Yet, this is what passes for sport. Pigeon shoots, you see, are still legal in just one state — Pennsylvania.
At pigeon shoots, birds are launched into the air and are shot by participants with shotguns from a distance of 25 to 30 yards. Most of the birds are wounded and flutter to the ground where trapper boys run out and wring their necks or they are shot again.
Last Saturday, March 30, 2012, the sick, twisted membership of the Philadelphia Gun Club (PGC) held another live pigeon shoot. Pigeon shoots are horrendous events where exhausted and frightened birds are put into small wooden boxes then hit with an electric shock as they are launched into the air and shot.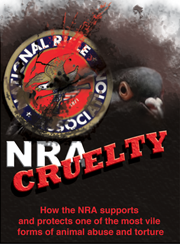 Live pigeon shoots, where birds are stuffed into small boxes, then launched into a hail of gunfire, are the ultimate form of animal abuse, for they are the mass killing and wounding of living beings simply for the pleasure it brings.