The local PRCA rodeo committee is raising funds to keep the rodeo going at the Lyon County Fair
July 3, 2009
By Karin Elton
         
It's part of America's heritage and it should be supported, said Lyon County PRCA Rodeo committee members Thursday.
"We need help from the general public to continue putting on the rodeo," said Lyon County Professional Rodeo Cowboys Association committee member Gene Schrunk.
One way the public can help ensure "clean family entertainment," said Schrunk, is to donate to the Coins for Cowboys fund-raising drive.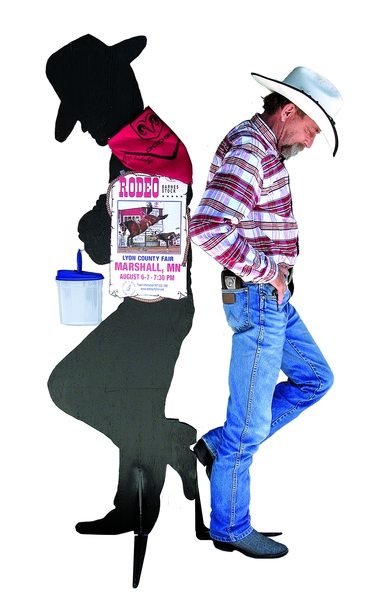 Photo by Karin Elton
Lyon County PRCA Rodeo committee member Gene Schrunk leans against a 'Coins for Cowboys' cutout which is a fund-raising device to help offset the increasing operating costs of Lyon County's annual rodeo. The cutouts will be located at various locations around Marshall.
Six cowboy cutouts will be positioned around Marshall at Running's, Minnwest Bank, Mike's Cafe, Hy-Vee and First Independent Bank at Wal-Mart. The cut-outs hold a container that the public can put money in.
"One hundred percent of the proceeds will be used to fund the rodeo," said committee member Rod Wilkison.
Committee members said the Lyon County Barnes Rodeo costs $65,000 to produce and they don't want to raise ticket prices beyond what families can afford.
"We're trying to maintain affordable ticket prices," said member Al Blankers.
Tickets are $12 for adults and $6 for children 12 and younger. Tickets can be bought prior to Aug. 6 and 7 at various locations and online at www.Lyoncountyfair.com for $10 and $5.
Blankers said tickets sales make up about "one-third of our revenue."
"We have to pay for the stock contractor, cost share for the clown and specialty act, contestants, winners and PRCA dues," said Schrunk.
All that costs money, so the committee must fund-raise.
"If we make our goal of $5,000," said Schrunk, "the excess will go to the Tough Enough to Wear Pink program."
Avera Marshall is partnering with Lockwood Motors and the Lyon County Fair PRCA rodeo to sponsor a "Tough Enough to Wear Pink?" campaign this summer. Aug. 7 is Avera day at the fair. T-shirts will be on sale throughout the day and should be worn that day at the rodeo.
Tough Enough to Wear Pink is an initiative to increase cancer awareness and facilitate access to health care, said Mary Boulton, the Weiner Memorial Foundation director.
"The proceeds will be used to make exams and mammograms available to the uninsured and underinsured," Boulton said. "With the economy and people losing their jobs, it's easy to put those things off."
She said the program will launch this fall.
Boulton said more than 800 T-shirts have been sold in the community to businesses, groups and individuals. T-shirts are $10 each.
For more information, visit www.avera.org.
Schrunk said the rodeo will be "pinked up" that Friday.
"The ropers will have pink ropes and wear pink chaps," he said.
Barrels will be wrapped in pink.
Schrunk, Blankers, and Wilkison, along with fellow committee member Gregg Swanson, said that they need public support for the Tough Enough to Wear Pink day at the rodeo and the Lyon County Rodeo in general in order to continue bringing rodeo to the community.
"It's a rural tradition," said Swanson.
Committee members also are looking for rodeo sponsors. Anyone wanting to be a sponsor or contribute to the rodeo fund can contact Wilkison at 532-3473 or Swanson at 828-3926 or Schrunk at 532-9048.