Olympics rodeo debate is decidedly one-sided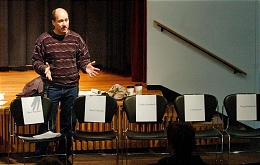 Animal rights activist Steve Hindi speaks out beside chairs representing those invited to debate rodeo issue.Laura Seitz, Deseret News
Animal rights activists can't draw out foes
By Peter Thunell
Deseret News staff writer
Thursday, January 3, 2002
With the bombast of a boxer at a pre-fight press conference, Steve Hindi, founder of Showing Animals Respect and Kindness, said he was "calling out" anyone who was pro-rodeo to debate him any time.
Unfortunately for Hindi, his challenge failed to stir up much of a crowd or spur any rodeo proponents to show up and verbally spar with him at the Salt Lake Downtown Library auditorium Wednesday.
Instead of a debate, Hindi and Colleen Gardner, a member of SHARK and the Utah Animal Rights Coalition, took the opportunity to again express the protests of various animal rights groups over the Salt Lake Organizing Committee holding the Olympic Command Performance Rodeo as a part of the 2002 Cultural Olympiad.
Hindi and Gardner reiterated earlier pledges of the animal rights community that they were willing to leave the 2002 Winter Games alone if SLOC would disassociate itself from the Olympic rodeo.
Hindi said that if this happened, the animal rights groups would only protest at the rodeo, but until then, it plans to protest at Olympic sites during the Winter Games and at every point of the torch relay to Salt Lake.
"Our goal is to cancel the rodeo, but we are completely thrilled with the Olympics if they say, 'We will have nothing to do with this anymore,' " Gardner said.
The rodeo is set for Feb. 9-11 at the Davis County Fairpark.
Hindi and Gardner expressed doubts about animal safety practices and statistics of the Professional Rodeo Cowboys Association. They also questioned whether SLOC really has a binding contract to go forward with the rodeo.
SLOC spokeswoman Nancy Volmer said the organizing committee's legal department confirmed SLOC has a binding contract. Volmer also said that SLOC representatives will be meeting Thursday with Mayor Rocky Anderson and animal rights groups in a meeting called by the mayor.
Steve Fleming, PRCA's director of communications, refuted claims that PRCA statistics on rodeo-related animal injuries are incorrect. "Our numbers," he said, "are true and accurate."
At Wednesday's "debate," there were five chairs placed in front of the room with the names of three PRCA executives and Lee Benson and Doug Robinson, both columnists for the Deseret News. Each chair represented someone Hindi had invited to debate him.
Both Benson and Robinson have written columns in the last few months calling into question some of the protest tactics of the animal rights activists. Benson returned from vacation Wednesday and said he found out about the debate after it was over.
Robinson said he never took Hindi's debate request seriously. "I said everything I had to say in 700 words. If they want to know how I feel about it, they can reread my column. Besides, if I were any good expressing myself verbally, I'd get a job in TV."
Fleming said the PRCA received the debate request on Sunday and representatives did not have enough time to attend even if they would have wanted to.
SLOC President Mitt Romney has expressed the desire to have calf roping removed as one of the events, but that won't be enough to quell the protests, Gardner said. "If he (Romney) got rid of the calf roping, I would give him credit and tell him 'congratulations.' . . . But if they go on with the rodeo and risk killing horses and risk killing bulls and steers, we can't say that calves are more important than horses," Gardner said.
Hindi and Gardner hope that if the rodeo is not a part of the Cultural Olympiad, people will not be as interested in going attending and will seek a refund on their tickets.