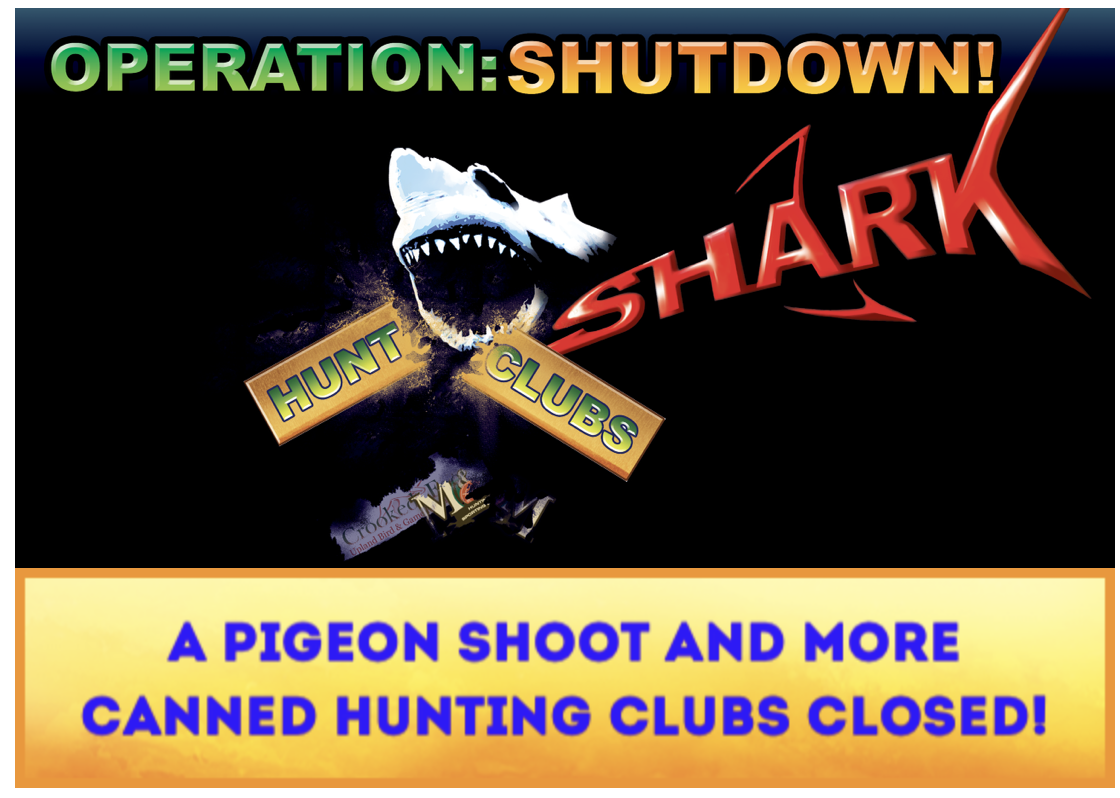 April 28, 2020
DEAR FRIENDS,
We are pleased to announce that our campaign to expose canned hunting clubs that are operating in violation of state stay-at-home orders is still scoring victories for animals!In the past week, we've not only shut down two canned hunting clubs in California (Oak Stone Outfitters and the Antelope Valley Sportsman's Club) and one in Maryland (Mason-Dixon Game Outfitters), but we also shut down a planned two-day pigeon shoot in 

Pennsylvania. 
Two pigeons SHARK rescued from a PA pigeon shoot. Hundreds if not thousands of pigeons would have been slaughtered this month at the two-day long shoot if not for SHARK's work
 
The PA pigeon shoot, called "The Berm," was especially egregious, not just for the cruelty to animals, but that past attendees have come from multiple states, including NY, NJ, MD, VA, TN and more, meaning it was a real threat to passing on COVID-19 to a wide area.
This just goes to show how little these vile shooters care about human or animal life. 
We know about The Berm because we were there for their 2018 pigeon shoot. As background, the pigeon shooters had gone into hiding after years of our
drone operations
exposing them. We found out about this shoot that year and
filmed the entire event
- even though they shot down one of our drones.

This is Peter Streletz (above), the organizer of The Berm shoot. As you can see by his face, he was horrified that we exposed him and his friends. And while they may have shot down our drone then, we shot down their slaughter this time!

SHARK will continue to search for animals abusers violating Executive Orders and shut them down.
SHARK is still working everyday to stop animal cruelty. Pease click the banner below to support our efforts to save lives!