April 15, 2023
DEAR FRIENDS,
SHARK is calling for anyone who cares about animals or the rule of law to join us in Lee County, Mississippi on May 21. You may contact us at This email address is being protected from spambots. You need JavaScript enabled to view it. with any questions or suggestions.
Lee County, Mississippi Sheriff Jim Johnson continues to allow three cockfight pits to remain active in his jurisdiction. The pits have operated with impunity for years. SHARK has actively worked, since the beginning of 2023 to get Sheriff Johnson to do his job, and shut down the pits. Our efforts have unfortunately failed.
This Sunday, May 21, 2023, Sheriff Jim Johnson will be faced with a choice. He can choose to end his corrupt protection of cruel, criminal cockfighting in his jurisdiction, or he can choose to have his corruption witnessed in real time via streaming to the entire world.
Cockfighter Buddy Baughman is scheduled to hold a cockfight on his property in Shannon, Mississippi, which is about ten miles south of Tupelo. Baughman has held many cockfights in 2023, and SHARK has filmed a number of the illegal events via drone.
A couple weeks ago, when there was no cockfight, SHARK flew a drone right down to Baughman's open air cockfight pit to get a clear, close-up view, leaving no doubt whatsoever of the nature of Baughman's criminal operation.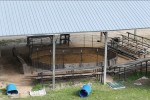 Incredibly, even after the images of Baughman's pit were shared with the world, Baughman has continued his criminal operation, and Sheriff Johnson has done nothing. Sheriff Johnson also allows two other illegal cockfight pits to operate with impunity just about ten miles north of Tupelo.
On May 21, animal protectors will take a page from the days of the Freedom Riders, but with the aid of modern technology, we will livestream everything that happens.
Here is the plan!
In the morning, animal protectors will first arrive at the headquarters of the Lee County Sheriff's Office in Tupelo to urge sheriff's personnel to do their jobs. From there we will travel to cockfighter Buddy Baughman's property, where we will fly drones to observe the illegal cockfight pit.
The only thing that can stop this trip to Mississippi this weekend is a public statement, from Sheriff Johnson, promising he will no longer allow illegal cockfighting in his jurisdiction. This is a statement that any honest sheriff can make without giving it a second thought, because cockfights are illegal throughout the United States.
If Sheriff Johnson chooses to aid and abet criminals, we will expose him to the Media, State and Federal Law Enforcement Authorities, the Nation, and the World.
Again, SHARK is inviting anyone who cares about animals or the rule of law to join us in Lee County, Mississippi on May 21. You may contact us at This email address is being protected from spambots. You need JavaScript enabled to view it. with any questions or suggestions.
You can urge Sheriff Johnson's office to act like a real police officer and stop cockfighting by going to his website. https://leecosheriff.com/submit-tip.php or https://www.facebook.com/leecountysheriff
You can also call the Sheriff's office at (662) 841-9040
Watch for developments on CrushCockfighting.com, and join our email list by sending a request to This email address is being protected from spambots. You need JavaScript enabled to view it..
I'm Steve Hindi for SHowing Animals Respect and Kindness.